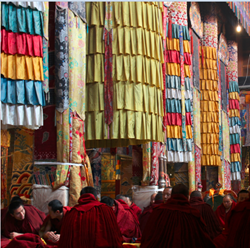 Welcome to explore the highland of Tibet with Tibet Ctrip Travel Service TCTS!
Lhasa, Tibet (PRWEB) May 20, 2015
While planning a 2015 Tibet tour most travelers have quickly discovered that there are a multitude of destinations to choose from. All the options to sort through can make the task of organizing a trip seem a bit intimidating at first; however, after investing a bit time in researching what Tibet has to offer most are able to identify what parts of Tibet interest them the most. To help travelers get started with their tour planning Tibet Ctrip Travel Service-TCTS (http://www.tibetctrip.com) shares what has been most popular so far in 2015.
Lhasa: Holding the title of largest city in Tibet it is indisputably the heart of Tibetan culture. This is a place that caters to both travelers who only have a few days to spend in Tibet and those who are setting themselves up for a more immersive experience. With its world famous cultural and historical sites Lhasa is a fantastic place to get started or even spend an entire visit.
Tsetang: Many culture-focused tours of Tibet make a stop in Tsetang, cradle of Tibetan civilization. Legend has it that the Tibetan people originated from the area's fertile green valleys, initially living off the land until the first farms were started. Tibet's first palace is among the ancient sites located here.
Ngari: The remote westernmost region of Tibet is filled with wonders like Mt. Kailash, the ruins of the Guge kingdom, and Lake Manasarovar. Those who visit this region are in for days upon days of fantastic mountain scenery along with interesting cultural experiences in the small towns and villages that dot the road to Ngari.
To get the most out of traveling in Tibet Tibet travel agency TCTS encourages visitors to first think about their groups interests: is it more culture focused, adventure focused, or somewhere in between? No matter the focus there's a seemingly endless list of ways to traverse Tibet. The 2015 travel season is coming into full swing so now is the time to get started with planning!