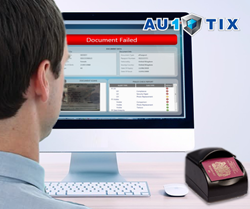 AU10TIX FDI 3-illumination scanners and software enable seconds-fast ID forensics at border control and airport security standard for employee, supplier and customer screening and onboarding.
Nicosia, Cyprus (PRWEB) May 25, 2015
The AU10TIX FDI solution for physical ID authentication and processing has originally been designed for security-critical environments such as airports and border control. The system is also used at government and commercial environments such as the RCI Banque auto financing dealerships in the UK, London's Ealing council and others. AU10TIX FDI stations can operate as self-contained independent units or in integration with enterprise systems. The system deployed by Clal Insurance group is an updated version of the FDI SDR image processing and risk analytics "brain".
"Our requirements for fast, deep-diving, systematic ID authentication technology are very strict", says Avi Ofir Risk & Security Manager at Clal Insurance Group: "AU10TIX FDI was selected following a meticulous testing procedure and was backed by the credentials of working in other markets for regulated financial service providers similar to Clal Insurance Group. We are true to our commitment for high security and compliance standards, without compromising on streamlined operation and best possible customer experience".
"We are delighted to be working with a market leader such as Clal Insurance Group", says Ron Atzmon, Managing Director of AU10TIX: "I would definitely commend the thoroughness and commitment of our colleagues at Clal, as well as their simply being extremely nice people to work with. Naturally, Clal as all of our other clients will benefit from the ongoing improvements and updates we introduce to our solutions to keep ahead of market requirements."
"Our friends at Clal Insurance Group benefit from a system that's built on years of experience in front-line deployment", says Ofer Friedman, VP Marketing of AU10TIX: "We incorporated more than 20 years of experience accumulated in the ICTS International group – one of the world leading airport and border control security companies. Our local market know-how is also a big plus. We look forward to working with Clal Insurance Group which stands out as an open-minded, innovator leading enterprise."
About Clal Insurance Group
Clal Insurance, Pensions and Finance Group provides life insurance products and services. The company was formerly known as Yuval Insurance Company Ltd. and changed its name to Clal Insurance Company Ltd. in 1978. Clal Insurance Company Ltd. was founded in 1962 and is based in Tel Aviv, Israel. The company operates as a subsidiary of Clal Insurance Enterprises Holdings Ltd.. The group owns insurance agencies, pension funds, provident funds, advanced training funds, loan companies and financial asset management companies. The group has about 4,000 employees and works with 2,000 insurance agents. All these activities place Clal as Israel's leading insurance, pension, and financial services group.
For more information, please visit http://www.clal-ins.co.il
About AU10TIX
AU10TIX Limited, a fully owned subsidiary of ICTS International N.V, deals with the authentication and digitization of identifying documents including Passports, identity cards, driving licenses and other complementary identifying documents. The company specializes in implementing hardware & software based applications used for scanning, identifying, content retrieval, authentication and validation of identifying documents. AU10TIX is a pioneer of all-channel (front-end and online) ID authentication and processing solutions. The company's products drastically reduce identifying document-based fraud, reducing the costs associated with client processing and enabling effective regulatory compliance, while making the sales and support operations speedier and considerably more efficient.
For more information, visit http://www.au10tix.com
About ICTS International N.V.
ICTS specializes in the development and implementation of innovative security concepts and solutions designed to meet the needs of a variety of industries, mainly aviation transportation, border control and sensitive facilities. ICTS International benefits from over two decades of expertise and international operational experience in transportation security, with a particular emphasis on high-risk environments, passenger processing transactions and the integration of security services to provide a comprehensive security solution. It also offers a wide variety of customized training programs, tailored procedures and a wide range of security consulting services. The company has developed and implemented unique technological solutions, based on its comprehensive approach to security, designed to enhance the level of security while accelerating the security check process.
For more information, visit http://www.icts-int.com
This press release contains "forward-looking statements" within the meaning of the Private Securities Litigation Reform Act of 1995, regarding the Company's business strategy and future plans of operations. Forward-looking statements involve known and unknown risks and uncertainties, both general and specific to the matters discussed in this press release. These and other important factors, including those mentioned in various Securities and Exchange Commission filings made periodically by the Company, may cause the Company's actual results and performance to differ materially from the future results and performance expressed in or implied by such forward-looking statements. The forward-looking statements contained in this press release speak only as of the date hereof and the Company expressly disclaims any obligation to provide public updates, revisions or amendments to any forward-looking statements made herein to reflect changes in the Company's expectations or future events.
Contact:
Clal Insurance Group
Risk & Security Manager
Email: AvrahamO(at)clal-ins(dot)co(dot)il
Tel.: +972 (3) 638 7801
AU10TIX
Ofer Friedman, VP Marketing
Email: ofer.friedman(at)au10tix(dot)com
Tel.: +357 (22) 007698
ICTS International NV
Alon Raich
Email: mail(at)ictsinternational(dot)com
Tel.: +31-20-716 3421