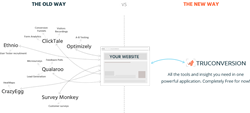 We're letting people come in and use the whole suite of tools and all we want in return is their feedback.
(PRWEB) May 20, 2015
In an announcement that has made waves in the conversion and analytics industry, TruConversion announced the beta launch of a powerful suite of conversion rate optimization tools. The company has announced the launch of a beta version of the application that will allow users to sign up and use all its major CRO and analytics tools for free.
While there are a large number of CRO tools in the market, what makes TruConversion revolutionary for the CRO and analytics industry is the fact that it's the first time that any solution has added all the fragmented tools into one product and they aim to offer it at a fraction of the price.
When we spoke to Hammad Akbar, the CMO at TruConversion, about the idea behind the application, he said: "We weren't really going for a big moneymaker when we developed TruConversion. I've personally spent years using various CRO tools on a large number of websites and the hassle and expense of managing multiple CRO solutions has always been a nightmare. We are able to give website owners a low-cost, easy to use solution that lets them do everything from one dashboard."
TruConversion really does let users do it all from the same dashboard. It boasts powerful CRO and analytics tools including microsurveys, feedback polls, heatmaps, scroll maps, click maps, A-b Testing, multi-variant testing, browser session recording, customer surveys, conversion funnels, form analytics and user tester recruitment.
What this allows webmasters to do is get high quality user insights and answers to the most pertinent questions related to the way people use their website.
TruConversion truly does it all... and then some.
The need for CRO and analytics tools arises from the fact that only 1%-3% of website visitors actually convert to paying customers while only about 22% of businesses are satisfied with their conversion rates. Website owners are in a constant uphill battle to keep visitors on their websites and make them click on their calls to action.
TruConversion helps with the execution of data driven marketing as the abundance of data collected includes details about every aspect of a website visitor's journey on the website. Everything from recording where they click to playing back exactly how they behave on a website is possible.
Being able to understand how a website's visitors react to certain changes and viewing what makes them click away from webpages means webmasters can now build their websites or products around their users and their requirements.
Another fact that's getting people excited about TruConversion is that they're offering free access to beta users for a limited time period.
Talking about this beta launch, Hammad said: "We're no strangers to the fact that beta testers can really help a product grow. We're letting people come in and use the whole suite of tools and all we want in return is their feedback. "
It seems to be a bold step but revolutionary ideas seldom come from being apprehensive. All eyes are on TruConversion as they continue on their mission to change how things are done in the analytics and CRO industries.