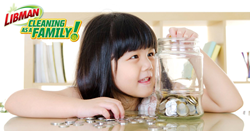 Arcola, Ill. (PRWEB) May 19, 2015
Libman and its team of Libman Family Bloggers invite parents to participate in an online event hosted on the brand's new forum, "Cleaning As A Family." The online community provides bloggers and parents with the opportunity to initiate and facilitate discussions surrounding cleaning, family and fun.
The event will take place online on Thursday, May 21st from 9:00 p.m. to 10:00 p.m. Eastern time at http://www.CleaningAsAFamily.com. To RSVP to the event, visit http://cleaningasafamily.com/rsvp.
During the hour-long forum party, participants will have the opportunity to debate, problem-solve and share experiences as it relates to various family topics, such as:

How to encourage all-family participation with routine clean-ups
Whether to distribute allowances or not
What chores kids can be expected to do at what age
Throughout the event, Libman will give away ten prize packs inclusive of Libman products.
The Libman Company is on a mission to help families across the country be more informed and share experiences when it comes to cleaning with the entire family and kid-chore behavior. The company's new online community, called "Cleaning As A Family," allows bloggers and parents to come together to debate, discuss, share and assist one another.
For more information or to join the "Cleaning As A Family" community, visit http://www.CleaningAsAFamily.com.
About The Libman Company
The Libman Company is a family-owned company that has been making quality cleaning tools since 1896. The company manufactures products from brooms and mops to more specialized tools for kitchen and bathroom cleaning and industrial uses. Libman proudly manufactures most of their products in the United States, including the company's well-known Wonder® Mop. For more information about the Libman Company, please visit http://www.libman.com