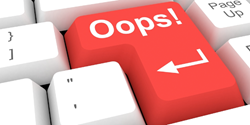 Washington, DC (PRWEB) May 19, 2015
Top 5 Reasons you need to signup at unSend.it NOW!
It happens. While sometimes funny, it's always going to make you look like an idiot. Two of the simultaneously BEST and WORST technological advancements in typing are spellcheck & autocorrect. "Meeting" often autocorrects into "mating". Without even realizing it until after you hit 'send', you may have accidentally set up an early morning mating session with your 65-year-old supervisor named "Trash" (intended to be "Trish") - thanks for nothing, autocorrect! There are endless possibilities of what you meant to write and how it actually reads. With unSend.it, you can edit these embarrassing typos at any time.
A dangerous button that can ruin friendships, relationships, and in some cases, careers. Sending what was intended to be a personal email back to the original sender may accidentally be sent to all recipients of the bulk-email. Unintentionally hitting 'reply-all' never ends well. It doesn't bode well for your career when you email your entire company calling your boss a lazy, low-life lunatic...especially when your boss reads it. With unSend.it, you can unsend emails at any time.
Autofill can be extremely useful. However, when you compose an email to 'Amber', make sure it's autofilling the correct 'Amber' from your contact list. Otherwise, you may have just asked Amber-your-wife (intended for Amber-your-attorney) how much it's going to cost you for your not-yet-discussed divorce. Guaranteed to make "Honey, I'm Home" uncomfortably awkward. With unSend.it, you can unsend your email & attachments at any time.
Applying for a job? Potential employers want your resume attached...NOT a picture of your cat wearing a Santa suit. Every day, countless accidentally-selected attachments are sent throughout cyberspace with many of them containing sensitive content (examples: financial, legal, medical, tax, business documents) you didn't want to attach in the first place. With unSend.it, you can edit, remove, or replace the attachment(s) at any time.
"Oh, I'm so sorry! I never received that email." Yes, they did – AND they read it! Your recipient just didn't want to admit that they completely forgot (or didn't care) about replying to you, the sender. With unSend.it open tracking, you can track exactly what time (to the exact hour, minute & second) the recipient opened your email.
How does it work?
Simply configure your existing email address to be routed through the unSend.it state-of-the-art secure outgoing (smtp) server enabling users full control over their sent email content (including attachments). Users need to set their 'username@unsend.it' address as their new 'from' address in their email client - however, all of your sent emails will show your existing email address as the sender (recipients will NEVER see a 'from unsend.it address').
Users can continue using their regular email client to send email (Gmail, Outlook, Apple Mail, etc)...the only difference is with unSend.it, you'll be in complete control of your sent email.
unSend.it utilizes end-to-end encryption providing the most secure technology in existence today.
unSend.it features:
Unsend or edit sent email at any time (even after being opened by the recipient)
Unsend or edit sent attachments at any time (even after being opened by the recipient)
Track when the recipient opens your email (with optional email notifications)
Self-destruct options: enable the message to disappear after being opened by the recipient
All features are fully-supported in the free unSend.it account - but for users that don't want the unSend.it branding or third-party ads included at the bottom of their sent emails, a low-cost paid account (ad-free) is available.
Ready to get started? Signup at unSend.it and for the first time ever gain complete control over your sent email!