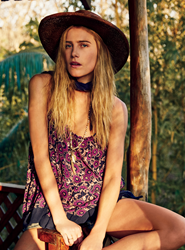 The additional square footage will allow us to showcase new product categories only available on our website before and I am thrilled to start representing these in our stores."
PHILADELPHIA, PA (PRWEB) May 19, 2015
Specialty clothing brand, Free People, has expanded its New York City Rockefeller Center boutique by adding 3,936 square-feet of retail space. Open since 2012, the newly expanded store now encompasses 11,096 square-feet, making it the brand's largest location to date. The additional square footage will house areas for an expanded assortment of 'FP Collection' shoes and 'Intimately Free People', as well as the introduction of the first 'FP Movement' and 'Party Dress' shops alongside lifestyle elements from the brand's assortment of unique home offerings.
Free People's updated look will mirror the Free People girl's globe traveling lifestyle and the collections that she curates and displays. While the original storefront remains untouched, new finishes such as mica plaster, painted brick, white wood slats, suede wash, and additional hand carved teak screens and shrouds have been installed throughout. Two fitting rooms were added, and an additional point of sale station supplements the existing cashwrap. The store's floor plan has been completely reworked in order to create flow and to navigate customers through the shops and merchandise, with reclaimed wide plank wood flooring added to the new expansion space helping delineate the zones. In some areas, a beautiful 16 foot ceiling gives shoppers a reason to look up.
"This will be our biggest Free People store to date," says Beth Wehagen, Free People's Director of Retail. "The additional square footage will allow us to showcase new product categories only available on our website before and I am thrilled to start representing these in our stores."
At opening, the boutique will be ready for summer with a sales floor of statement dresses, one pieces, shorts, and everyday tops in bright feminine whites balanced with bold color embroideries and graphic prints. Among the added merchandise, the brand is carrying a larger assortment of 'FP Collection' shoes. Introducing newly developed shoe fixtures, customers can look forward to a varied assortment, including strappy sandals, sporty slip-ons, wooden clogs, and summer gladiators alongside embellished cross-bodies and leather bags. The added square footage will house a 'Party Dress' shop highlighting head-to-toe styled looks and an extensive Intimately Free People product assortment of mix-n-match printed sets and sporty inspired pieces. Lifestyle elements from the brand's collection of home offerings will also be housed in the additional space, including embroidered poufs, incense burners, a hardware collection of hooks and hangers, and distinctive ceramic pieces. The first 'FP Movement' shop will be located on the second floor with a view down to the first level featuring yoga, ballet, surf styles and accessories on specially designed fixtures.
Each Free People store offers personalized shopping experiences from a team of expert stylists. Customers can schedule a one-on-one appointment with their favorite stylist, as well as interact and gain inspiration through the brand's online Style Community, FP Me. In addition to offering personal styling, New York City fans can look forward to a variety of in-store events to be hosted at the Free People boutique at Rockefeller Center throughout the year. Fans should follow along on Instagram to stay up-to-date on all of the latest arrivals, events, and other happenings: instagram.com/FreePeopleRockCenter/
The store is located at 10 West 49th Street, New York, NY 10020. Store hours will continue as before, running Monday- Saturday from 10am-9pm and Sunday from 11am-7pm. The store's telephone number is (212) 265-3010.
For more information, images, to request an interview, or to discuss a TV opportunity, please call Sarah Santos at 215-454-7224 or email ssantos(at)freepeople(dot)com.
###
About Free People
Free People is a specialty clothing brand featuring the latest trends and vintage collections for women who live free through fashion, art, music, and travel. The eclectic look consists of quality apparel, shoes, and accessories that invoke attributes of femininity, spirit, and creativity with its design. Free People is distributed globally via direct channels including the Free People Global site, the Free People UK site, and the Free People China site as well as specialty boutiques, top department stores, and the brand's free standing retail locations in the U.S. and Canada.