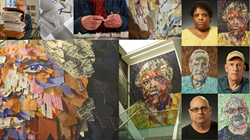 Imbuing law advertising with highly emotive authenticity and artfulness is quite groundbreaking.
Philadelphia, PA (PRWEB) May 20, 2015
2 national, 4 regional, 10 local ADDy's including 2 'Best in Show' awards gives credence to the agency's claim of providing awesome creative and thinking to the firm's clients. Philadelphia's D4 Creative, one of the region's top advertising and branding agencies, won 'Best in Show' awards for "Branded Content" for "Elements of Advertising both for the "Torn Apart" campaign we created for law firm, Pond Lehocky Stern Giordano. Gold ADDY awards were also given for "Visual Illustration-Single" and "Visual Illustration-Campaign" The campaign can be viewed here: http://www.d4creative.com/pond
D4 also won 2 gold awards for "Video Branded Content" for theLincoln Logs social media campaign. Lincoln Logs (distributed by K'NEX) had no Facebook or social media presence. In the last quarter of 2014, D4 created over a dozen animated short films featuring Lincoln Log characters. Those films supported by D4's social media efforts drove over 100,000 likes and hundreds of thousands more interactions with the toy company in less than three months all in time for the holiday season. Some of the videos can be viewed here: http://www.d4creative.com/lincolnlogs
D4's Executive Creative Director Rich Wakefield brought the "Torn Apart" campaign, which included TV spots and out-of-home, to life with the idea of making collage-style art directly out of the shreds of actual case files documents, medical forms, insurance bills, and other records of real life people that the law firm represented in life altering work-related injuries. D4 contracted renowned collage artist, Ian Wright from the United Kingdom, to bring the concept to fruition. Rich commented, "It was powerful to see the art blown up to over 12' by 8' on the walls of our client's new offices. Will inspire future employees as well as give hope to their clients."
See the behind the scenes video here:
https://youtu.be/7n4bgX0vhds
Kurt Shore, D4 President commented, "Imbuing law advertising with highly emotive authenticity and artfulness is quite groundbreaking. The truth is most people hate advertising- so do we- unless the work makes you feel something be it a tear or a smile or both. When we can connect such emotion to the brands we work with, then we're doing our job."
About D4 Creative
D4 is one of the region's most successful creative and branding advertising agencies and is located in the Manayunk section of Philadelphia. The agency is a certified Woman/Minority Business Enterprise (WMBE). Unique to the region, D4 combines a full compliment of strategic, creative, design, digital and interactive, social media, and SEO professionals surrounded by robust in-house video editing, motion graphics, post-production, and audio suites. D4's clients include McKesson, K'NEX, Unilife, Metrocast, Frontier Communications, Harris Tea, Gate 1 Travel, My Alarm Center, Acme-Hardesty, Sandia Laboratories, and American Collectors Insurance. For more information, visit our website at http://www.d4creative.com.