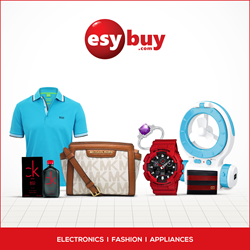 Gaurav Agarwal, Digital Marketing Head of Esybuy said, "We want to satisfy all moments of truth for Esybuy as an E-Com brand, Our main objective is to work on customer retention rate & create "WOW" experiences in online shopping with maximum discounts"
Dubai, UAE (PRWEB) June 01, 2015
Esybuy.com, one of the fastest growing e-commerce portals catering to online shoppers in United Arab Emirates, is now offering the concept of deals in Dubai and introducing "Esydeal" as a separate section on its website with massive discounts on consumer electronics, fashion and lots more.
The USP behind the concept is to offer deals which are unique and competitive in comparison to other e-commerce websites in the UAE. Esybuy's deals concept offers around 200 products, offering value for money discounts on products that include kitchen appliances, smart phones, televisions, laptops, watches, perfumes, handbags and fashion apparel.
It is an amazing concept because the shopping portal directly negotiates with the suppliers on bulk sales, thus margins are then passed over to the consumer making it a "win-win" buy for him/her. They then map the products on a daily basis according to the best deals and product availability.
Furthermore the e-commerce site conceptualized Esydeal to offer the best shopping experience for online shopping in Dubai, UAE, with a premium range of consumer-centric services like free deliveries, free exchanges, cash on delivery and a diverse range of high quality branded products.
Deals in Branded Watches and Perfumes
If one wants to buy watches online as a gift or to buy for oneself, Esydeal will offer wide choices with a multitude of luxurious and high street watches for men and women.
To buy Casio watches in Dubai, Esybuy has an immense range for both men and women. The Casio watch range includes G-Shock, Edifice, Sheen series and lots more. The G-Shock series are high-tech watches that are water-proof and have a stopwatch feature which is great for people in military, sports, outdoor adventures, etc. The G-Shock collection has up to 59% discounts. The Edifice collection operates on solar power and has a hybrid mount construction to protect against internal damages when dropped. The Edifice collection is now retailing at 53% discount.
Unbeatable deals on Fossil Watches in Dubai
A watch is a must have for an ensemble, and for people looking to buy Fossil watches in Dubai, there are huge ranges of Fossil watches for both men and women. Fossil watches are stylishly trendy yet affordable for the average person. The watches are very durable because of the inbuilt high quality materials. Fossil watches come in analogue and analogue/digital variants and with a multitude of features that include date display, alarm clock, water resistance and more. Current offers are up to 56% off on Fossil watches.
Avail discounts on Guess watches in Dubai.
Guess watches have been the rage ever since their introduction in 1984 with their stunning designer looks and high functionality. The Guess collection for men and women features an array of gold, silver, crystal encrusted dials with different fabric straps. Guess watches flaunt analogue and chronograph displays. Customers can take advantage of discounts that are up to 53% on Guess watches.
To buy perfumes online one should actually check around the Esydeal section that displays hand-picked brands at high discounts. Online shoppers can choose from the range of branded men's and women's perfumes with prices starting as low as 59 AED.
The Esydeal section displays personally hand-picked ladies handbags. A handbag is an essential for any women and whether it's for work or personal purpose, there is an array of high quality branded ladies handbags like Michael Kors, Coach, Guess and many more with a current offer of up to 81% on handbags.
About Esybuy
After a thorough study on consumer patterns, Esybuy was co-founded in early 2013 by Shafeeq Salih, Shabeer Ali and Mohammed Zanil, with a foray into the electronics range but, now expanding into fashion products that further branches out into handbags, perfumes, sunglasses, fashion apparel, kitchen appliances and lots more.
The R & D team is tirelessly working to optimize on user experience and leading technologies. With a strong group presence in Dubai, UAE, Iran, and Libya, the company has expansion plans in GCC countries like Saudi Arabia, Qatar, Kuwait, Bahrain and Oman. The portal is one of the top online shopping portals in Dubai, UAE with more than 15000 products at a single time and more than 20000 monthly orders.