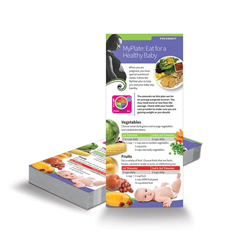 Owatonna, MN (PRWEB) May 26, 2015
Learning ZoneXpress is excited to announce a new and useful product line, Nutrition Education Cards. These cards have been specifically designed for WIC, SNAP-Ed, and EFNEP. Featuring engaging photography and simple, easy-to-read text, these new educational resources are extremely useful tools for nutrition educators. They offer practical nutrition tips and suggestions to clients and provide an individualized learning opportunity.
Current titles available are:
+ MyPlate: Eat for a Healthy Baby Pregnancy Education Cards
+ Weight Gain During Pregnancy Education Cards
+ Nutrient Needs During Pregnancy Education Cards
+ MyPlate: Nutrition While Breastfeeding Education Cards
+ Beverage Choices When Breastfeeding Education Cards
+ Picky Eating Education Cards
+ Baby's First Finger Foods Education Cards
Learning ZoneXpress will continue to develop additional titles covering Pregnancy, Breastfeeding, Baby Feeding, Child Nutrition, Family Nutrition, and General Nutrition.
Cards are 4" x 9", 2-sided, and printed on cardstock featuring a blank space on the backside to personalize it with a label or stamp with clinic or organization information. They come in a set of 100 and fit easily into a brochure display, WIC folder, or #10 standard business envelopes.
Learning ZoneXpress, based in Owatonna, MN, is a leading source of award-winning nutrition education resources. Its mission is to improve the health and vitality of people by providing relevant, creative and affordable teaching tools about healthy behaviors and nutrition. Learning ZoneXpress offers a wide variety of educational products including posters, handouts, and incentives used successfully in WIC and Public Health Programs, Cooperative Extension Programs, Early Childhood Programs, and Community Action Agencies. For more information about Learning ZoneXpress Education Cards, visit http://www.learningzonexpress.com or call 888-455-7003.