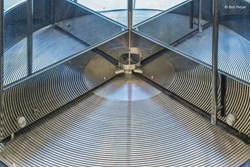 For DORMA customers, these best-in-industry warranties mean they can have increased confidence in the quality and performance of our products.
Reamstown, Pa (PRWEB) May 20, 2015
DORMA Americas, the premier global manufacturer of revolving doors, is pleased to announce it now offers 10-year warranties on Crane revolving doors' manual speed control and stainless steel floor grilles. These best-in-class warranties mark another industry first for DORMA.
Crane revolving doors by DORMA offer premium construction and unmatched design possibilities. Whether an elegant all-glass door, a timeless classic mahogany wood door, or a complete building entrance, Crane revolving door components can be customized to complement a building's exterior and interior design theme. They make an excellent solution in a wide variety of applications.
Here are some details about the features covered by DORMA's new 10-year warranties:
Crane Manual Revolving Door Speed Control
Crane's proven speed control design enables DORMA to provide the industry's best 10-year warranty.
All Crane manual revolving doors have the same 100:1 gear ratio manual speed control. The Crane manual speed control is a steel cast, precision machined, sealed unit mounted in the canopy. The centrifugal force brake slowly engages as the door reaches the maximum allowable RPM set by code. The brake shoes can be easily adjusted or replaced.
Crane Revolving Door Welded Floor Grilles
Crane revolving doors have a superior floor grille design, allowing DORMA to provide the industry's best 10-year wear warranty.
Floor grilles can be integrated into the revolving door design to ensure proper function and visual appeal. Fabricated from concentrically rolled bars of stainless steel, the grilles are curved to the radius of the revolving door, allowing the door to spin properly and minimizing damage to the bottom door sweep. The heavy-duty floor grilles are welded and formed from 304 or 316 solid stainless steel, 1/4" × 1" solid bars polished to a #4 satin finish. The recessed grille pan is welded from 12-gauge stainless steel and can have a drainage fitting added. The tolerances for the grilles aligning concentrically are to a 1/64" variance.
"For DORMA customers, these best-in-industry warranties mean they can have increased confidence in the quality and performance of our products," said William Bueso, Director of Sales, DORMA Automatic Door Solutions and Crane Revolving Doors. "We're always looking for opportunities to expand on the value we provide to the customers who put their trust in DORMA."
For more information about the new 10-year warranties, contact DORMA at 1-800-523-8483. To find out more about DORMA access solutions, visit the DORMA Americas website at http://www.dorma.com.
---
About DORMA
DORMA is a leading global manufacturer of premium access solutions and services that enable better buildings. A full range of products and services provides safety and security as well as convenience and comfort. DORMA features a design oriented portfolio of architectural door hardware, specialty hardware for glass door and wall applications, door automation systems including Crane Revolving Doors, and operable wall systems featuring Modernfold. Strategic partnerships with technology innovators RCI and Farpointe Data extend DORMA's portfolio of electromechanical access control products and systems, and strengthens the presence of both firms in the North American market. DORMA is an international market leader with innovative and inspiring design and technologies for access solutions and services.