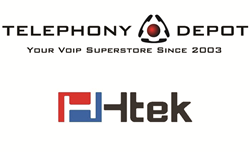 NORRISTOWN, PA and NANJING, CHINA (PRWEB) May 19, 2015
HTek™, a world-class designer and manufacturer of enterprise IP telephones and Voice over IP (VoIP) products, and Telephony Depot®, a leading distributor of VoIP products and services, announced today their partnership for the distribution of HTek IP telephone sets in the United States. Since 2005, HTek (a brand of Hanlong Technology LTD) has provided OEMs, VoIP solutions providers, and Internet Telephony Service Providers (ITSPs) worldwide with advanced VoIP products that are sold in over 40 countries. The HTek UC800 series of IP phones deliver excellent HD audio performance using advanced Texas Instruments® chipsets. HTek IP phones provide wide interoperability, advanced SIP features, and are manufactured to world-class quality standards backed by an industry-leading two-year warranty.
Telephony Depot is an award-winning distributor and online superstore of VoIP products and services. Telephony Depot's extensive network of resellers and enterprise customers will now have an attractive new option for creating high-quality VoIP systems and offerings at an attractive price point using HTek IP phones.
"We are happy to be working with Telephony Depot to distribute HTek IP phones in the U.S. I believe that our IP phone products, and Telephony Depot's strong VoIP expertise and extensive network of resellers, will create a winning combination for VoIP business customers in the U.S.", said Navy Ding, CEO of HTek. "We look forward to a long and prosperous relationship with Telephony Depot."
"The addition of HTek IP phones to our product portfolio will help VoIP solution providers and enterprise customers create affordable, cutting-edge unified communications solutions," commented Darren Nickerson, President of Telephony Depot. "We believe HTek IP phones offer an exceptional combination of quality and value for our customers, and are proud to be their first major distributor in the U.S."
All HTek UC800 series phones deliver crystal-clear HD audio performance, a full-duplex speakerphone, dual Ethernet ports, integrated Power over Ethernet (PoE), multiple SIP accounts, advanced XML applications, support for over 10 languages, and secure auto provisioning. Many phones in the series include color displays, Gigabit Ethernet support, and up to 14 programmable keys. HTek IP phones offer a compelling value for both enterprise customers and service providers, starting at $65 (MSRP).
About Telephony Depot: Telephony Depot was launched in the summer of 2006 as an operating division of iFAX Solutions, Inc. It's mission to cater to the growing popularity of VoIP and telephony hardware, and to the rapidly growing ecosystem forming around open source telephony and open standards such as SIP, was a logical expansion of the enterprise fax solutions provided by iFAX. Telephony Depot is now recognized as a premier distributor and online marketplace of superior VoIP and related communications and IT solutions for businesses of all sizes, due in part to pairing with only the finest manufacturers. Telephony Depot has developed an extensive portfolio of hardware, software, service and support products. Telephony Depot was honored to be recognized in two consecutive years as one of the 500 fastest growing private companies in America by Inc. Magazine, and debuted 10th on the Philadelphia 100 list of fastest growing in the region. Telephony Depot is an operating division of iFAX Solutions, a private company based in Norristown, PA. More information is available at http://www.telephonydepot.com.
About HTek: HTek is a name brand of Hanlong Technology LTD, a world-class designer and manufacturer of IP voice products. HTek products deliver superb sound quality, a rich set of SIP telephony features, and broad interoperability with leading phone system providers, including Broadsoft®, 3CX®, Elastix®, Asterisk®, and Alcatel-Lucent®. All HTek IP phone products are backed by an industry-leading two-year warranty. Since 2005, Hanlong Technology has provided OEMs and ITSPs worldwide with advanced VoIP products. The latest HTek UC800 IP phones continue the tradition of focusing on cutting-edge features, universal compatibility, world-class quality, and competitive pricing. Hanlong Technology LTD is a private company headquartered in Nanjing, China. For more information, please visit http://www.h-tek.com.