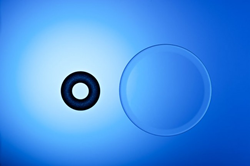 "Hoopes Vision is excited to be the first practice in the country to offer this new technology to our patients to treat presbyopia"
Draper, UT (PRWEB) May 21, 2015
Hoopes Vision, a noted provider of surgical vision correction in the Salt Lake City area, performed the United States' first commercial implantation of a revolutionary new device designed to treat presbyopia on May 19th. Presbyopia, the loss of ability to focus on near objects, is a natural part of the aging process of the eye and affects an estimated 114 million Americans. In most people, presbyopia begins to manifest itself after age 40, causing difficulty reading print as well as phone and computer screens, and eventually leading to the need for reading glasses or bifocal glasses. The KAMRA™ inlay has helped thousands restore their near vision and reduce the constant frustrations of reading glasses.
"Until recently, the options for treating presbyopia often involved compromise or inconvenience to the patient. Patients found reading glasses annoying and restrictive, and while many people respond well to monovision, where one eye is optimized for distance and the other for close up, others reported issues with distance vision or depth perception." said Dr. Phillip C. Hoopes, Sr., CEO and Chief of Surgery at Hoopes Vision. "The KAMRA inlay offers an excellent option for the correction of presbyopia with minimal compromises and inconveniences that come with other treatment options. We are excited to be the first practice in the country to offer this new technology to our patients."
The KAMRA inlay sits in the first few layers of the cornea, the clear tissue at the front of the eye. Smaller and thinner than a contact lens, the inlay is a mini-ring with an opening in the center. This creates a pinhole effect that focuses light as it enters the eye. This improves near vision while maintaining distance vision without blurry zones.
"For those people over 40 who are experiencing problems with near vision and would like the freedom that comes from not having to deal with reading glasses, I recommend making an appointment with a vision correction specialist who offers KAMRA as an option," said Dr. Hoopes. "That specialist can perform the necessary testing to determine whether a patient is a good candidate for the KAMRA procedure, or would be a better candidate for a more traditional presbyopia treatment, and can discuss the risks and benefits of each option in order to allow the patient to make an educated decision about his or her vision."
About Presbyopia
Presbyopia, a frustratingly natural eye condition, reduces the ability of the eye to focus on near objects. This condition occurs when the crystalline lens of the eye loses its flexibility, making it difficult to focus on close objects. Presbyopia may seem to occur suddenly, but the actual loss of flexibility takes place over a number of years, usually becoming noticeable in the early to mid-40s. Presbyopia is not a disease and it cannot be prevented. In the past, presbyopic patients had to rely on reading glasses or monovision to improve their near vision. Both alternatives have significant compromises.
To find out if the KAMRA inlay is right for you, Dr. Hoopes recommends asking your eye doctor some of the following questions:

Do I have presbyopia or some other condition?
What are my presbyopia treatment options?
Are there options other than reading glasses and contact lenses?
Please visit http://www.KAMRA.com for more information on presbyopia and the KAMRA inlay.
About Hoopes Vision
As a leading provider of surgical vision correction in the Salt Lake City area, Hoopes Vision has performed procedures such as LASIK, PRK, cataract surgery, and ICL on tens of thousands of patients. Hoopes Vision was a participant in the FDA clinical trials for KAMRA. To make an appointment, please contact Hoopes Vision at 801.568.0200 or by visiting http://www.hoopesvision.com.