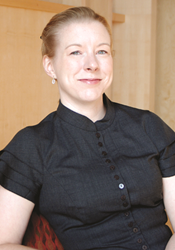 Melissa has created a dynamic work environment that supports risk taking, continuous learning, and career growth opportunities. -Benchworks CEO Thad Bench
Chestertown, Maryland (PRWEB) May 20, 2015
Benchworks President Melissa Johnston has been presented the Transformational Leader Award in the PM360 ELITE (Exceptional Leaders, Innovators, Transformers and Entrepreneurs) competition. PM360 ELITE recognizes individuals who are the most influential in the healthcare industry and instrumental in achieving results.
PM360 is a trade publication that focuses on marketing in the pharmaceutical, biotech, and medical device industries. It covers branding, marketing, advertising, patient and professional education, strategies, leadership, trends, and medical device technology.
Benchworks CEO Thad Bench commented on the award, saying "Melissa has created a dynamic work environment that supports risk taking, continuous learning, and career growth opportunities. This has resulted in greater efficiencies, faster turnaround time, and cost savings for our clients. She is truly deserving of this distinction."
Melissa Johnston said that she is thrilled to be selected as a Transformational Leader. "I am honored that Thad and Renee Bench nominated me for this award. Benchworks is an amazing company with the most dedicated and hardworking team that I've ever had the pleasure to work with. Transforming Benchworks into a leading creative marketing agency has taken a great deal of time and effort from everyone in the company and I am truly grateful to my colleagues who have been on this journey with us."
Founded in 1991, Benchworks is a multichannel strategy and execution partner, providing end-to-end marketing services from traditional print marketing to cutting-edge digital technology. Benchworks makes marketing happen graciously: by being responsible, accountable, flexible, and tirelessly honest—creating innovative marketing programs that position their client partners for success. The team consists of excellent listeners, methodical strategists, and nimble tacticians…and they use every ounce of those skills to ensure that their clients' brands grow.
Benchworks is a family of operating units that includes a full-service advertising agency, a product launch logistics center, as well as a consulting group focused on commercialization planning for biotech companies. Clients include a wide variety of companies in the pharmaceutical, beverage, manufacturing, marine, tourism, and education industries in North America and Europe.
For more information, visit http://www.benchworks.com, or call 800-536-4670.