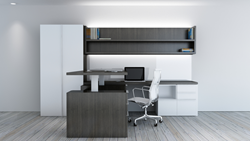 Los Angeles, CA (PRWEB) May 20, 2015
Innovant's FORm_office Adjustable Height, FORm_AV, PRIVATE_office, and new NIGEL Desking products will be on display at DesignHive in Gensler's innovative spec suite.
DesignHive is a forward-thinking spec suite design project introduced by Brookfield to meet the changing needs of modern space users. Six leading Los Angeles architectural firms have designed 3,500-4,500 suites that showcase a next generation work environment. Each of the six suites are geared toward a specific industry, including creative, tech, media, financial, legal, and professional services. DesignHive not only serves as an experiential idea generator for those exploring progressive workplace solutions, but also offers immediate leasing and move-in opportunities for smaller tenants.
Gensler's DesignHive suite is geared towards the legal industry. With the practice of law undergoing a fundamental transformation in the way work is acquired and done, the need for faster and more agile law firms has emerged. This means that the law office of the future will likely be smaller, flexible, more collaborative, and technology enabled. In order to adapt to these future needs and work styles, the key is to build flexibility into today's legal workplace. Gensler's DesignHive suite, furnished with Innovant's open plan office products, exhibits the flexibility that's needed for a smooth transition into the law office of the future.
This progressive work environment can be seen at the Wells Fargo Center-South Tower, located at 355 South Grand Avenue on Bunker Hill. For more information about Innovant or its products, please visit http://www.innovant.com.
About Innovant: Innovant is a renowned industry leader creating intelligent, adaptable furniture for the modern workplace. With a flagship showroom located in New York, Innovant maintains a worldwide network of offices and showrooms spanning North America, Europe and Asia. Innovant's substantial contributions to office and trading floor environments not only stem from its superior products, but also from the close collaboration Innovant supplies to clients, their architects and designers.