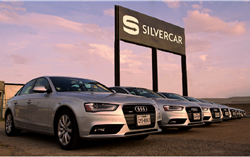 We're doing things right. Giving customers what they want—when, where, and how they want it. The rest of the industry is having trouble keeping up. This is truly shaping up to be a break-out year for us.
Austin, TX (PRWEB) May 19, 2015
Silvercar has been named to the 2015 Austin A-List by the Austin Chamber of Commerce through its Innovate Austin initiative and South by Southwest Interactive.
Selected by a panel of independent judges from more than 275 nominations, Silvercar was officially revealed and named to the annual Austin A-List of Hottest Startups in ceremonies held at ACL Live at the Moody Theater.
Silvercar's Austin A-List win in May comes as the company builds on its tremendous momentum. In March, Silvercar bested Ritz-Carlton to win Eye For Travel's "Best Mobile Strategy" award. In April, Silvercar CEO Luke Schneider was named a finalist for 2015 EY Entrepreneur Of The Year, and Silvercar CFO Chris Donus was named a finalist for The Austin Business Journal's CFO Of The Year.
Silvercar tripled its business last year and doubled it again in the first quarter of 2015. It commenced operations at Fort Lauderdale Int'l Airport on May 15th and is set to welcome the first Silvercar customers to Chicago O'Hare on June 15th. Silvercar has announced plans to expand to at least three additional markets this year and is on pace to grow another 300% in 2015. "We're doing things right. Giving customers what they want—when, where, and how they want it. The rest of the industry is having trouble keeping up. This is truly shaping up to be a break-out year for us," explains Silvercar CEO, Luke Schneider. "To be selected as a stand-out company amongst 275 other exciting companies is an incredible achievement. I'm proud of everyone at Silvercar and incredibly thankful for all of their hard work. It's our amazing team that really enables us to stand out above the pack."
Recognition as an A-List Company is intended to increase the visibility of Austin's most fundable, scalable and innovative regional startups, and drive increased venture capital funding to Central Texas. Since the inception of the annual A-List awards, there has been a combined $358,670,000 in investment for all A-List honorees.
About Silvercar: Car Rental The Way It Should Be
Founded with a mission to eliminate typical frustrations and points of friction that have plagued its industry for decades, Silvercar is paving the way for the future of car rentals. The company's seamless car rental business—offering ONLY fully loaded silver Audis A4s—eliminates lines, counters, paperwork, and hassles by delivering the entire experience through an easy-to-use mobile app and friendly concierge service. Silvercar is continually earning the highest customer satisfaction and loyalty scores in the industry and is currently offering service in five of the six busiest car rental markets in the U.S. (SFO, DEN, LAX, MIA, PHX as well as DFW, DAL & AUS and FLL.) To learn more, download the Silvercar app and/or visitSilvercar.com.
About the Austin Chamber
The mission of the Austin Chamber of Commerce is to provide leadership that facilitates the creation of a prosperous regional economy and effective advocacy for its more than 3,000 members. For more information about the Austin Chamber of Commerce visit http://www.AustinChamber.com.
About SXSW Interactive
An incubator of cutting-edge technologies and digital creativity, the SXSW features five days of compelling presentations from the brightest minds in emerging technology, scores of exciting networking events hosted by industry leaders and an unbeatable line-up of special programs showcasing the best new apps, Page 3 of 3 hardware, video games and startup ideas the community has to offer. From hands-on training to big picture analysis of the future, SXSW Interactive has become the place to experience a preview of what is unfolding in the world of technology. Visit http://sxsw.com/interactive.