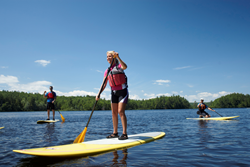 L.L.Bean has always been about making it as easy as possible for people to spend time outdoors
Freeport, Maine (PRWEB) May 19, 2015
The L.L.Bean Outdoor Discovery Schools is giving folks hundreds of reasons to discover their love of the outdoors through its new menu of 2015 courses, trips and tours, ranging from a few hours to several days. In addition to offerings for the beginner to the expert in stand-up paddleboarding, kayaking, fly fishing, clay shooting, biking and camping, highlights for 2015 include stand-up paddleboarding yoga experiences, including a weekend-long retreat, multisport weekend-long adventures, island bird watching tours and more.
New additional offerings include a host of offerings designed just for teenagers, including a Teen Adventure Week, which features a new adventure every day for with activities such as stand-up paddleboarding, canoeing, hiking, clay shooting, fly fishing, orienteering, environmental stewardship and more. L.L.Bean's Teens' Kayaking and Stand-Up Paddleboarding Adventure Day teaches participants how to kayak and stand-up paddleboard while enjoying nature, wildlife and the environment. The Teens' Overnight Kayak Camping Adventure gives teen the opportunity to explore hidden islands coves and inlets along Maine's coast on this three day, two night adventure, featuring hearty meals and the chance to learn about the natural history and wildlife of Casco Bay on this trip.
"L.L.Bean has always been about making it as easy as possible for people to spend time outdoors," said Gretchen Ostherr, senior manager for the L.L.Bean Outdoor Discovery Schools. "Our Outdoor Discovery Schools are the embodiment of that principal. We are removing the most prominent barriers to participation while sharing our passion for the outdoors in hopes of turning someone onto an activity that will hopefully become a lifelong passion."
For people of all ages, L.L.Bean Outdoor Discover Schools' multiday, overnight adventures give folks the opportunity to see the true beauty of Maine from a unique vantage point--kayaks, stand-up paddleboards, bikes and more. Some examples include:

Summer Weekend Getaway—a three-day, two-night adventure featuring home-cooked meals, hiking, canoeing and kayaking in a remarkable wilderness Maine setting
Kayak Camping Adventure—three days and two nights of hiking, camping and kayaking in a pristine, remote setting
Maine Bike and Kayak Trip or the Maine Bike and Paddleboard Trip—the best of Maine by land and sea, a chance to explore the beautiful Maine coastline, plus enjoy a lobster or steak dinner while camping at L.L.Bean's private oceanfront campground
Stand-Up Paddleboarding Yoga Weekend Retreat—a great way to refresh your body and spirit with a relaxing weekend of yoga on land and sea, plus stand-up paddleboarding and kayaking tours of Maine's Casco Bay
Two-Night Island Kayak Camping Expedition—an expeditionary-type experience, Registered Maine Guides demonstrate what gear you'll need for a self-supported overnight kayak expedition and how to efficiently pack it into a solo sea kayak, pick a camp site, set up a tent and build the perfect cooking station--they'll then prep and cook an amazing homemade meal, sharing advice on the best, easy-to-cook meals for kayak camping, all set amongst a spectacular
The Outdoor Discovery Schools also offers dozens of shorter courses, trips and tours at various regions throughout the country for activities such as fly fishing, archery, shooting, kayaking, stand-up paddleboarding, biking, bird watching, canoeing, hiking, as well as women's-only adventures. In addition, at each of its retail stores throughout the country, L.L.Bean offers a host of free clinics and demonstrations on a range of topics from navigating with a map and compass, fly tying, hiking, to trail running and more.
To review the full host of L.L.Bean Outdoor Discovery School offerings, their locations and dates and to register online, visit http://www.llbean.com/adventure for more information, call 888-552-3261.
About L.L.Bean Outdoor Discovery Schools
Since 1979, the L.L.Bean Outdoor Discovery Schools have been offering a variety of courses, trips, tours, seminars and clinics for activities such as kayaking, cycling, fly fishing, camping, hiking, stand-up paddleboarding and much more. The guiding principals have always remained the same: to promote an enjoyment of the outdoors by making it as easy as possible for people to engage in outdoor activities and to foster an appreciation and respect for our natural environment. These foundations are inherent in every program offered, whether it is a two-hour fly casting lesson, a half-day tour or a three-day trip. Last year, over 130,000 people participated in L.L.Bean Outdoor Discovery School programs.
# # #