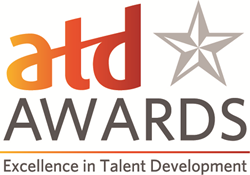 Orlando, FL (PRWEB) May 19, 2015
During its 2015 International Conference & Exposition held in Orlando, FL, the Association for Talent Development (ATD), formerly ASTD, recognized organizations and individuals for their excellence and contributions across the talent development field. The event was held at the Hard Rock Orlando on May 18.
In comments at the ceremony, ATD President and CEO Tony Bingham said, "The work you are doing is not only important to your organizations – it is critical to our profession. Thank you for striving harder, for trying new things, and for understanding how important talent development is. I commend you all on the work you do every day."
Individual honorees included:

Chris Anderson, curator for TED -- Champion of Talent Development Award
Martin Bean, vice-chancellor and president for the Royal Melbourne Institute of Technology University –Distinguished Contribution Award
Patti Phillips, co-founder, president, and CEO of the ROI Institute – CPLP Fellow Award.
Jim Black and Sumathi Pearl received the ATD Dissertation Award.
ATD also recognized organizations including, University Health System – Center for Learning Excellence, which won the associations new Innovation in Talent Development Award.
The 2014 Excellence in Practice Award winners were also recognized for results achieved through the use of practices and solutions from the entire scope of workplace learning and talent development.
Fifteen awards and 33 citations were presented in 10 categories: career development, coaching and mentoring, diversity and inclusion, facilitating organizational change, integrated talent management, learning technologies, managing the learning function, organizational learning and development, performance improvement, and sales enablement. Awards are presented to organizations with proven practices that have delivered measurable and sustained results. Citations are awarded for those practices that show significant promise.
The organizations selected to receive Excellence in Practice Awards are:
Arise Virtual Solutions, Miramar, Florida
China Mobile, Beijing, China
China Post Group, Beijing, China
College of American Pathologists, Northfield, Illinois
Finansbank, Istanbul, Turkey
HealthSouth Corporation, Birmingham, Alabama
Hilton Worldwide, McLean, Virginia
Hindustan Petroleum Corporation Limited, Mumbai, India
Hewlett-Packard, Palo Alto, California
Hewlett-Packard, Enterprise Services, Palo Alto, California
MTR Corporation, Hong Kong (2)
The Raymond Corporation, Greene, New York
USAA, San Antonio, Texas
Yum! Restaurants China, Shanghai, China
A complete list of Excellence in Practice award and citation winners can be found on the ATD website, http://www.td.org.
About ATD
The Association for Talent Development (ATD), formerly ASTD, is the world's largest association dedicated to those who develop talent in organizations. These professionals help others achieve their full potential by improving their knowledge, skills, and abilities.
ATD's members come from more than 120 countries and work in public and private organizations in every industry sector.
ATD supports the work of professionals locally in more than 125 chapters, international strategic partners, and global member networks.