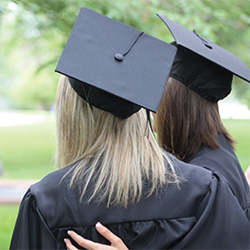 "The program is centered around student success. It holds Union College to a higher standard to provide the support these students need and it holds the students to a higher standard of academic achievement and involvement." ~ Dr. Marcia Hawkins
BARBOURVILLE, Ky. (PRWEB) May 19, 2015
Union College is offering free tuition for its most dedicated students.
In 2012, Union College welcomed its 19th President, Dr. Marcia Hawkins; who promptly offered a commitment of free tuition to her inaugural class of freshmen. The move was one to challenge the incoming students to excel academically and civically as well as challenge her administration to work harder to retain students from orientation to graduation.
That commitment continues today, as Hawkins and Union College extend the same offer to all incoming freshmen through permanent establishment of the UGrad program.
"The program is centered around student success," Dr. Hawkins said. "It holds Union College to a higher standard to provide the support these students need and it holds the students to a higher standard of academic achievement and involvement. In the end, the program serves the greater need of returning students to their communities ready for a career with less debt tied to an education."
All incoming first-time freshmen are eligible for the program, but must maintain a commitment to their education throughout their four years at Union. Students must participate in class events; maintain good academic standing; participate in one or more campus organizations; complete community service, be enrolled full-time each term and qualify to walk at commencement within four years.
Students who meet those criteria will have tuition costs waived during their final semester at Union. A 100 percent tuition waiver will be issued for students with a GPA of 3.5 or above. Students with a GPA of 3.0 to 3.49 will gain a 75 percent waiver and students with a GPA of 2.5 to 2.9 will gain a 50 percent waiver.
"When we can focus as much on student success as on recruiting, then we can truly say we are student-centered," Dr. Hawkins said when implementing the program. "If we are truly student-centered, recruiting success will follow."
UGrad does equal success as that 2012 inaugural class is already proving. 214 freshmen entered Union that fall, 51 students are on track for that tuition waiver during their final semester and greeting Dr. Hawkins during commencement ceremonies in 2016.
"We have an obligation to prepare these students for careers and service to their community and to do that in four years," Dr. Hawkins said. "Union College is leading the way with this program and our commitment to our students."
To learn more about the UGrad program, or to apply for enrollment at Union College, please visit http://www.unionky.edu/ugrad.
About Union College:
Located in Barbourville and founded in 1879, Union College is affiliated with the United Methodist Church and is recognized as an important part of southeastern Kentucky's rich history and impressive landscape. Home of the Bulldogs, Union is a private, liberal arts institution comprising undergraduate and graduate programs, plus a new school of nursing and online learning opportunities. Union supports a diverse academic environment for nearly 1200 students built upon a liberal arts foundation and integration of higher order thinking into all of our learning. Union is grounded by four pillars that define our focus as an academic institution: service to each other and our communities; our Appalachian culture and heritage; our core affiliation with Methodism and the liberal arts academic experience.
For more information, visit http://www.unionky.edu.