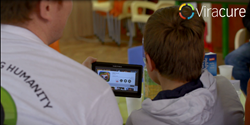 So many people have never even used a computer. We want to help the youth become more familiar with technology today. Metaphorically speaking, Viracure is a shield for you and a blanket for them.
London, United Kingdom (PRWEB) June 10, 2015
In a fast changing world that continues to be faced with tremendous social and economic inequality, up-and-coming antivirus company Viracure has decided to take those challenges head on. The UK-based antivirus company has started what they hope will be a long-term and impactful socially responsible campaign in lieu of the generic marketing campaigns that so many Internet users stumble upon daily.
Like so many international software companies, Viracure expanded its development centers to emerging markets outside of the United Kingdom to capture the best IT engineering talent available throughout the world. But, unlike many other global companies who host development centers in emerging markets, the international team of Viracure executives visited those offices often to work with their team and were quickly introduced to the culture, social landscape, and economic troubles of these countries.
In reviewing the planned 2015 marketing budget and activities, Viracure's team quickly noted the funding about to be spent on their campaigns could be split and used on something more meaningful. Viracure's mission as a business is to make the Internet a safe and enjoyable place for users to surf. The company's executive team agreed that their mission should have as much impact in the countries in which they are working.
Viracure aims to protect as many computers from harmful and malicious software as possible throughout the world. As a company built up from scratch and by self-made people from various communities and walks of life, Viracure understands that access to technology and education is where market development must begin.
In 1995, approximately 1% of the world had Internet access. Twenty years later, the developed world has worked long and hard to bring Internet access to less than 40% of the global population, some 3 billion users worldwide. Yet, in emerging markets, where Internet access and computers should be readily available to every child and adult, this is still an issue.
In May, Viracure silently began its new campaign in emerging markets by spending a portion of their planned marketing budget on laptops, tablets and smartphones for the children of several orphanages in Southeastern Europe, where one of Viracure's development centers is located. By providing underprivileged youngsters who do receive a basic education with access to ICT tools, Viracure's goal is to directly influence the development of the tech industry and entrepreneurship in such emerging markets.
In this impromptu beginning of what promises to be a campaign for community impact, Viracure is currently researching where similar donations will make the most impact and has invited their users, partners, and peer companies to join them in this endeavour of bringing a safe Internet to every child in emerging countries. Viracure has pledged to donate a percentage from every purchase of Viracure antivirus software in this campaign to make the Internet not only a safer, but a much more varied and better place to surf.
------------------------------------------------------------------------
About Viracure Limited: Viracure Ltd., registered in the United Kingdom, was established in 2015 and is located in London, 89 Bond Street, UK W1S 1DA. Viracure is an antivirus solution that provides security and privacy protection for personal and professional users. Viracure's long term goal is to help people understand the importance of using smart and simple technology in a responsible way so as to protect privacy and life.
For the growing, competitive antivirus industry, Viracure presents a game changer. The added benefit of seeing a company like Viracure hit the market is in bringing inspiration to peer companies. Viracure leads by example and hopes to see more companies like it begin giving back to their customers and the communities they work in and benefit from.