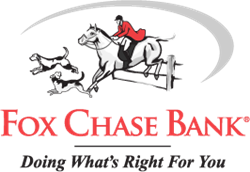 Hatboro, PA (PRWEB) May 20, 2015
Tom Petro, President & CEO of Fox Chase Bank, and Kerry Lynch, the Bank's Executive Vice President, actively participate in activities to benefit young entrepreneurs of Philadelphia through Network For Teaching Entrepreneurship (NFTE).
At the NFTE 6th Annual 2015 Visionary Gala held on May 13th, Tom was presented with the 2015 Visionary Award. Tom is actively involved in the entrepreneurial programs provided by NFTE. He stated, "I'm honored to receive the 2015 Visionary Award and will continue collaborating with educators and volunteers to lead and inspire students from economically disadvantaged neighborhoods in the Greater Philadelphia region to plan for successful futures."
NFTE provides programs that inspire young people from low-income communities to stay in school, to recognize business opportunities and to plan for successful futures. Since opening its doors in 2007, NFTE Philadelphia has trained over 50 educators, engaged over 400 volunteers and reached 4,000 students from low-income communities with entrepreneurship education programs. This year, NFTE Philadelphia is working with 1,400 high school students.
As an entrepreneur himself, Tom shared three insightful and thought-provoking insights with NFTE program participants during his acceptance speech.
"Soar with your strengths," Tom mentored. "We all have strengths and weaknesses. Ineffective entrepreneurs get mired in attempting to fix their weaknesses. Effective entrepreneurs focus on leveraging their strengths."
He continued, "No excuses. There are a millions reasons why not to attempt something difficult. They are all excuses. Excuses trap us in our present circumstance and chain us to mediocrity."
Tom concluded with this motivational tip, "Never give up. If you bat .300 in baseball you are the top of the game. That means the very best in baseball fail 70% of the time. Do not be afraid of failure. Learn from it. Get up and keep going – never give up."
Through the NFTE program, students develop confidence, passion, determination, resourcefulness and social skills. NFTE Philadelphia brings together educators, business people and civic leaders to give Greater Philadelphia's most disadvantaged students the skills and experience they need to start successful careers as entrepreneurs and business leaders.
As part of the NFTE curriculum, students create a business plan, which they present to their teacher and peers. Students move on to presenting their business plan during a local Philadelphia competition – the Annual Youth Challenge.
Kerry Lynch, a Fox Chase Bank Executive VP, will serve as a judge for the 8th Annual Youth Challenge which will be held on June 5th. This is the 4th year Kerry has had the opportunity to judge students' business plans.
"This is such an exciting event," states Kerry. "The NFTE program teaches students to be passionate about their product or service and their future. Presenting their business plans really builds their confidence which becomes part of their character."
Winners of the 8th Annual Youth Challenge will go on to regional challenges. Regional winners will then present their business plans during a national competition.
About Fox Chase Bank
Fox Chase Bank serves growing middle market businesses, commercial real estate investors and depositors in the attractive markets that span Baltimore to New York City delivering on the promise of doing what's right for people. The Bank, established in 1867, is headquartered in Hatboro, Pennsylvania. It provides a comprehensive array of financial products and services through a comprehensive suite of cash management services and ten branch offices in Bucks, Montgomery, Chester and Philadelphia Counties in Pennsylvania and Atlantic and Cape May Counties in New Jersey.
About NFTE Philadelphia
NFTE's vision is that all young people can find their path to success. The organization has witnessed how the program can develop confidence and hope for the future. By learning business principles and engaging in thought-provoking exercises, NFTE students learn to embrace business and entrepreneurship, which is the cornerstone of the Greater Philadelphia region. NFTE gets results. A NFTE National 2013 alumni survey found that: 99% of NFTE program alumni over age 25 earned a high school diploma versus 85% of non-alumni over 25; NFTE alumni have an 88% higher rate of employment than non-alumni; and alumni earn on average $14,000 more than non-alumni.