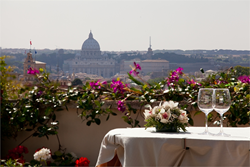 Rome, Italy (PRWEB) May 21, 2015
The Bettoja Hotels are luring North American families to Rome this summer with some tantalizing offers. In addition to the many sites and wonders Rome presents to travelers of all ages, the Bettoja Hotels are offering great packages.
Three Night Package: Book a minimum stay of three nights at any of the Bettoja Hotels and guests will receive the best available rate which is a minimum of 10% discount. Package includes 3 night minimum, daily breakfast, tax, service, free use of gym, morning newspaper and free wifi connection…perfect for short visits to Rome or pre/post cruise. Rates are from 124 € per night in the Atlantico.
There are also offering a deep discounted non-refundable booking package. Make a reservation at any of the Bettoja Hotels and receive a 15 – 20% discount off the best available rates. And remember, rates go down as much as 25% in July and August. Rates start as low as 110.26 € per night.
For culture vultures, there is the Art and Culture City Package. The Bettoja hotels support the arts year round, and this year until June 21 the featured exhibits are Matisse Arabesque at Scuderie del Quirinale and until September 21, David LaChapelleis exhitibit " Dopo il Diluvio" or (after the Flood) at the Palazzo delle Esposizione. And if you miss these shows, do not worry; there are exhibitions throughout the year. With a minimum stay of 3 nights, the Art and Culture Package offers 10% off the best available daily room rate, free entrance per person to selected exhibits, 15% off a gourmet meal at the restaurants at the Massimo D'Azeglio or Mediterraneo restaurants, a welcome drink, Daily newspaper, full buffet breakfast, tax and service. Rates are from 116 € per night
The family owned Bettoja Hotels, have 3 hotels in center Rome, (Mediterraneo, Atlantico, Massimo D'Azeglio) perfect for a family stay. Rooms are spacious and some connect and convert to triples and in some cases, quads. All the hotels are centrally located on Via Cavour, easy walking distance to most sites. The train station, metro and bus station is one block away.
The Bettoja group is known for their service, excellent food, 24 concierge service. Their two rooftop garden on the Mediterraneo offer the perfect setting on a balmy summer night for an ice cream or aperitif while overlooking the Imperial city.
For reservations, contact: Bettoja Hotels, 011-39064814798, fax: 011-39064824976, e-mail: HB(at)bettojahotels(dot)it: web site: http://www.bettojahotels.com. or 212-860-5445, 800-783-6904, fax: 212-860-4544
Contact: Martha Morano, Morano Public Relations, 212-860-5566, Martha(at)moranopr(dot)com