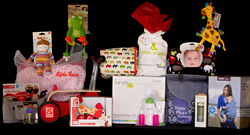 Phoenix, AZ (PRWEB) May 21, 2015
Chatterbox LLC, a newly-launched marketing firm specializing in brand building for products in the baby and kids industry, is wowing celebrity moms with gift baskets filled with thoughtfully selected items to celebrate the arrival of their new bundles of joy.
The must-have baskets are now in the hands of the following A-list celeb moms: Hilaria Baldwin, Ashlee Simpson, Keira Knightley, Blake Lively, Isla Fisher, Molly Sims, Kate Middleton, Liv Tyler, Sara Gilbert and Jessica Biel.
Each exclusive luxe baby basket was filled with cleverly designed items, carefully chosen to make life with baby just a little bit easier, including:

Skip Hop – Grab & Go Stroller Organizer, a handy caddy that snaps on strollers.
Nini & Pumpkin – Moon Cocoon Sleep Sack fits baby from 6 mos. – 3 years.
Mixie – One-of-a-kind formula mixing baby bottle, made in USA.
PullyPalz – First-ever baby toy that helps babies retrieve their own pacifier. Mom inventor was recently featured on Shark Tank!
Baby Elephant Ears – American made, multi-use headrest provides spinal/neck alignment and comfort.
MOBY – Ingenious Aria carrier can snuggly hold babies in 3 carrying positions!
Hape – Both the Walk-a-long Puppy and Little Red Rider feature beautifully simple Scandinavian design.
Kathe Kruse – Cara Mello knit monkey and Garden Patchwork blanket come from the makers of the finest soft toys and dolls from Europe for over 100 years.
Kiinde – Twist Universal Direct-Pump Breastmilk Collection, storage and feeding system gift set streamlines your process for breastfeeding success.
Dolphin Organics – Gift set features gentle, organic hair and bath essentials.
Innobaby – Teethin' Smart™ ez grip massaging teether will be a lifesaver!
Boppy – Golden & Vail Diaper Bags keep all the baby necessities organized.
dnGkids – Label Label giraffe will surely be a huggable, colorful new BFF for baby.
About Chatterbox LLC:
Chatterbox LLC specializes in PR, marketing and celebrity outreach for the baby and kids industry. Founded by Amy Bartko who is not only Noah and Nathan's mom, she's a marketing sharpshooter with more than 20 years of experience in strategic communications. She's an expert in this niche-driven market segment. She's been on the marketing team for many major baby and kid brands that you all know and love, helping each become the brands they are today. To learn more, visit chatterboxbrands.com.
####