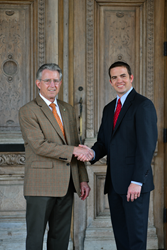 'Returning to my hometown and giving back to the students who are sitting where I sat nearly 16 years ago is hugely rewarding. I am very proud to continue to be a part of the University of South Alabama community.' - Dr. Bennett
San Antonio, TX (PRWEB) May 20, 2015
Texas Physical Therapy Specialists (TexPTS) is proud to announce that co-founder and co-owner Andrew Bennett, PT, DPT, OCS, FAAOMPT, was selected as the 2015 inductee into the Pat Capps Covey College of Allied Health Professions Alumni Hall of Fame for his accomplishments in the physical therapy field and his community. The University of South Alabama Class of 1999 alumnus gave a special lecture titled, "Our current healthcare system is dying. What is the role of the physical therapist in building a sustainable one?" at the March 31 induction ceremony.
After launching his physical therapy career in the Air Force, Dr. Bennett co-founded TexPTS in 2004. Today, TexPTS serves patients in San Antonio, Austin, Dallas, and the surrounding areas from nearly 20 clinics and is home to more specialty board-certified physical therapists than any other practice in Texas. Dr. Bennett is a board-certified Orthopaedic Specialist and is among 1% of therapists who hold Fellowship status in the American Academy of Orthopaedic Manual Physical Therapists.
In 2007, he was appointed civilian clinical faculty by the U.S Army-Baylor Physical Therapy program to lend his expertise in building the clinical education program into a true medical model internship. The net economic effect on the military medical system has been an increase in productivity (50 additional referrals seen per month) and an annual savings of $3.3 million. He has helped to extend this internship model nationally to civilian programs by developing the Clinical Excellence Network.
Dr. Bennett serves in an adjunct or clinical faculty role to several physical therapy programs including: U.S Army Baylor University, Texas State University, Regis University, University of the Incarnate Word, and Colorado State University. As an Evidence In Motion (EIM) faculty member, Andrew teaches in the Executive Private Practice Management, Orthopedic Residency, and Manual Physical Therapy Fellowship programs. The implementation of EIM's distance-based learning method combining online learning with onsite weekend intensives has made TexPTS a true teaching center.
"It's an honor to be recognized as the 2015 Pat Capps Covey College of Allied Health Professionals Hall of Fame inductee," said Dr. Bennett. "Returning to my hometown and giving back to the students who are sitting where I sat nearly 16 years ago is hugely rewarding. I am very proud to continue to be a part of the University of South Alabama community."
Dr. Bennett has collaborated with the Texas Orthopaedic Association on transparent patient outcomes and was recently invited to assist with strategic planning of a pilot project to reframe healthcare delivery at Resolute Health Hospital. His outreach is both local and international as he provides care to student athletes at John Paul II Catholic High School in Schertz, TX and has recently returned from a sister clinic in Haiti that a number of TexPTS staff members have supported over the last five years.
To book a free consultation with Dr. Bennett or one of San Antonio's experts in injury prevention, please call 888.658.8483.
About Texas Physical Therapy Specialists:
Founded in 2004, Texas Physical Therapy Specialists (TexPTS) is a private physical therapy practice with locations throughout the following areas: Austin, Cibolo, Central Texas, Dallas, Georgetown, Hill County, Liberty Hill, Live Oak, Randolph Air Force Base, New Braunfels, Parmer/Pflugerville, Round Rock, San Antonio, San Marcos, Schertz, Selma, Spring Branch, and Universal City. Known for teaching and training physical therapists all over the US, TexPTS physical therapists take pride in delivering comprehensive and compassionate care to their patients with the best results. Our clinicians have a have a wide range of clinical expertise in manual physical therapy, spine care and rehabilitation, general orthopaedic conditions and rehabilitation, sports specific injuries, workplace injuries and much more. TexPTS was voted one of the Top 50 Places to Work in San Antonio in 2011, 2013, and 2014 by their own employees, the Best Private Physical Therapy Practice in the U.S. in 2009 by their peers in the American Physical Therapy Association and has been recognized on the Inc. 500/5000 lists for the past three years. For more information visit TexPTS.com or the TexPTS Facebook page.