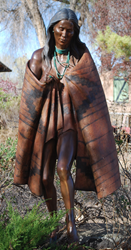 Star has a wonderful idea for this show to set her new pieces in a beautiful garden setting and each of our galleries is going to be transformed by her art and the fantastic foliage - Shanan Campbell Wells
Santa Fe, NM (PRWEB) May 20, 2015
Sorrel Sky Gallery will present the sculpture of Abiquiu artist Star Liana York for the First Friday Art Walk on July 3. York is one of Southwest Art's 30 most influential artists and her bronze sculptures can be seen in public spaces throughout the West.
For the July event, Star plans to present her work in a new and fun setting. Sorrel Sky Gallery will be adorned with foliage of all kinds and her sculptures will be set amongst the greenery.
"It should be fun to show people how sculpture can be expanded to be shown outdoors so they don't have to necessarily show it in their houses. Small patios and intimate outdoor spaces can lend more focus to those outdoor areas and give them the feel of a sanctuary," York said of the unique show.
The Maryland native has lived in Abiquiu about 30 miles north of Santa Fe for the last 20 years and has become renowned for her life-size bronze works depicting wildlife and American Indian imagery. She said the Southwestern climate is ideal for outdoor bronze sculptures, as the patinas stand up well over time to the drier climes of the region.
Sorrel Sky Gallery owner Shanan Campbell Wells has no reservations about transforming her Santa Fe and Durango galleries to make Star's creations feel a bit more at home.
"Star has a wonderful idea for this show to set her new pieces in a beautiful garden setting and each of our galleries is going to be transformed by her art and the fantastic foliage," Wells said.
York also will appear at Sorrel Sky's Durango location for the First Thursday Art Walk on July 2.
Sorrel Sky Gallery's fresh approach to Western art presents a select collection of contemporary and traditional fine art and jewelry for the discerning collector. Sorrel Sky Gallery was founded in Durango, CO in 2002 and opened its Santa Fe, NM location in 2014. It represents over 60 painters, sculptors and jewelers including bronze artist Star Liana York, painter Billy Schenck, and Ben Nighthorse, among others.