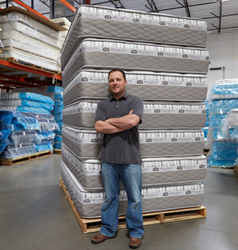 We want to deliver a high-quality, made-in-America mattress at the lowest possible price. It's that policy that has made our growth possible. We are proud of our new Brooklyn Bedding facility and look forward to continued growth.
Phoenix, AZ (PRWEB) May 20, 2015
Brooklyn Bedding has opened a new 145,000 square foot factory and showroom in Phoenix, AZ. They are one of the only factory-direct mattress Internet retailers and one of the leading Internet mattress sales companies. The new facility will almost triple the production rate of Brooklyn Bedding mattresses.
"We have been able to produce up to 600 mattresses a day. With this new facility, we will be able to raise our production to as many as 1600 mattresses per day," explained John Merwin, owner. "The demand for our individualized mattresses has grown expediently. We will now be able to meet our production goals."
Brooklyn Bedding's growth has been fueled by the company's commitment to producing foam and latex mattresses that are individualized for sleeping comfort. "We have learned that one mattress doesn't fit all," Merwin explained. "Different sleeping styles and different personal comfort levels demand different mattresses, even when you are working with a supportive, natural foam like Latex." The Brooklyn Bedding mattresses come in three customized comfort levels. The soft mattress is designed for side sleepers and customers who want soft, plush sleeping comfort. The medium firm is a supportive mattress that balances soft comfort with a firmer feel. The firm mattress is designed for back and stomach sleeping positions as well as those who want a firm sleeping surface. Each mattress is constructed with a high density foam core and layers of Talalay and Dunlop Latex foam.
"Internet sales demand that every customer knows they have the opportunity to both test and return their purchase if it's not exactly right for them. We want to make sure that each of our customers has chosen the mattress that is best for their singular comfort level and sleeping positions," Merwin continued. Brooklyn Bedding fills this need by offering a 120 day trial period and a free return policy.
As one of the only factory-direct Internet mattress stores, Brooklyn Bedding is able to offer extra savings to their customers. "Simply, there is no middleman," Merwin concluded. "We want to deliver a high-quality, made-in-America mattress at the lowest possible price. It's that policy that has made our growth possible. We are proud of our new Brooklyn Bedding facility and look forward to continued growth."