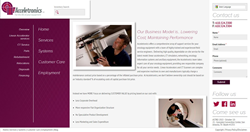 Most of all, by servicing our customers more effectively, we, as a company, can help our customers better fight the longstanding and continuous battle against cancer
ATLANTA (PRWEB) May 20, 2015
mRELEVANCE, LLC recently launched a new website for Acceletronics, Inc., a company specializing in linear accelerator and CT scanner sales and services. Featuring a modern look, user-friendly design and responsive design, the new site makes it easier than ever to find parts and support services for oncology equipment.
"The new Acceletronics website improves the user experience for current and future customers," explained David Stiles, Senior Technical Account Manager for mRELEVANCE. "The site is now responsive which provides for a better user experience whether viewing it from a smartphone, tablet or PC. And, the site's database allows for easy content updates. With a contact form and contact information directly accessible on every page, users will experience a streamline process for getting in touch with the company, which provides a two-fold advantage."
The new design is seamless and flawless with an easy to use and responsive side-bar menu that adjusts based on website user's selections. The product search box is prominently displayed just above the sidebar menu, providing quick and easy site search for visitors to find exactly what they need at the click of a mouse.
Users can find social media icons below the contact form to easily locate the company on Facebook, Twitter and LinkedIn. Further enhancing the site's usability, the site features an all-inclusive language selection bar. Every language from Chinese to Italian and even Afrikaans is available to better serve clients all around the globe. Every language included by Google Translate is available and easily translates the website into a more relevant reading experience for that user.
"The new site is incredibly functional and, best of all, it looks great," said Steve Schwarz, President of Acceletronics, Inc. "We are excited to continue into 2015 with a fresh look. We expect this site will better serve our customers, both new and returning. Most of all, by servicing our customers more effectively, we, as a company, can help our customers better fight the longstanding and continuous battle against cancer."
Acceletronics is dedicated to delivering the best equipment performance and service reliability from Linear Accelerators and CT Scanners across all major brands and models. The company's team of highly qualified oncology equipment service specialists provides timely field maintenance and a premium customer experience across the USA. Acceletronics offers turnkey refurbished Linear Accelerators and CT Simulators on time, warranted and within budget. Acceletronics' sister company, Radparts.com, is the largest independent multi-brand distributor of Linac Parts providing around the clock service, worldwide. To visit the Acceletronics, Inc. website, go to http://www.Acceletronics.com.
For more information on website development, visit http://www.MarketingRELEVANCE.com.
About Marketing RELEVANCE: mRELEVANCE, LLC creates relevant marketing and communications that reach audiences with focused and strategic messages. Through technology and creative content, messages are delivered to target markets to encourage customer action and interaction.
With offices in Atlanta and Chicago, mRELEVANCE can connect your company with buyers and build relevant relationships nationwide. Like us on Facebook, and follow us on Twitter at @mRELEVANCE or call 770-383-3360 or 847-259-7312.