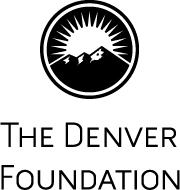 What you just heard is the sound of our community – each and every one of us working together to improve life in Metro Denver.
Denver, CO (PRWEB) May 26, 2015
It was an evening befitting the largest, oldest, and most diverse community foundation in Colorado. On Wednesday, May 13, The Denver Foundation marked 90 years of impact and ushered in a new era of community-based giving with its Annual Celebration, held at the Seawell Grand Ballroom. Titled "Our Future in the Making," the event celebrated the donors, leaders, grantees, and volunteers who partner with The Denver Foundation to mobilize resources for good.
"If your organization, neighborhood group, or cause has received a grant or any other kind of support from The Denver Foundation this year, please stand up, or wave," said David Miller, CEO of The Denver Foundation. Hundreds of hands were raised as donors and volunteers applauded. "What you just heard is the sound of our community—each and every one of us working together to improve life in Metro Denver."
The Annual Celebration highlighted the Denver African American Philanthropists (DAAP), which formed at The Denver Foundation's Annual Celebration in 2012. The first African American men's giving circle west of the Mississippi River, DAAP is a model of The Denver Foundation's commitment to engaging philanthropists and building collective impact among communities of color. DAAP presented its 2015 grants to Athletics and Beyond and the Youth Employment Academy, two Denver-based organizations that empower youth to pursue education, career pathways, and positive activities.
Two new giving circles, LatinasGive! and SPIN (Sisterhood of Philanthropists Impacting Needs), were unveiled during the event. Built on the success of DAAP and fortified by a 2014 grant from the W.K. Kellogg Foundation, these new giving circles reflect The Denver Foundation's work to democratize and redefine "philanthropist" by including those who give time, talent, treasure, and testimony. LatinasGive! and SPIN each presented an inaugural gift of $10,000 to The Denver Foundation during the Annual Celebration.
"With these dollars we will proudly steward organizations that are building a legacy in the Latina community," said Adrienne Mansanares of LatinasGive!.
Miller shared highlights from The Denver Foundation's 2014 annual report, including:

In 2014, Metro Denver residents contributed more than $108 million dollars to The Denver Foundation for a wide range of charitable purposes.
After opening 61 new funds in 2014, The Denver Foundation now stewards nearly 1,000 funds for individuals, families, businesses, and organizations.
The Denver Foundation awarded more than 5,000 grants totaling nearly than $67 million dollars to nonprofit organizations and resident groups in Metro Denver, throughout Colorado, and across the United States.
The 2014 Annual Report is now available online: 2014report.denverfoundation.org.
The program included a musical performance by Denver artist Ian Cooke, who was one of the 2015 recipients of an Art Tank grant from The Denver Foundation's Arts Affinity Group. Cooke was awarded a grant for his Antiquasairia Project, an educational project that teaches adults and children about the environment through music and the use of life-sized dinosaur puppets. Accompanied by a one of the puppets, Cooke featured a selection from Antiquasauria.
The event ended with a premiere screening of "What Community Does," a new video that tackles the question: What a community can do with the support of a community foundation? Produced by Thaddeus Anderson (2014's viral Denver video, "Breathless"), with an original poem by Ken Arkind "What Community Does" is available on The Denver Foundation's website, http://www.denverfoundation.org.