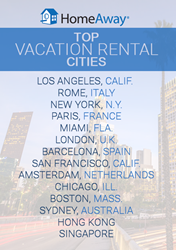 AUSTIN, Texas (PRWEB) May 20, 2015
HomeAway, Inc. (NASDAQ: AWAY), the world leader in vacation rentals, today announces the top emerging cities exhibiting high demand from families and groups for whole-house rentals. HomeAway® observes these markets as a strong opportunity for owners and property managers to list their vacation homes in response to the significant imbalances between supply and traveler demand.
HomeAway is launching a new Cities home page and cities such as Los Angeles and Rome will be the first on HomeAway sites to feature newly redesigned landing pages, including fully integrated HomeAway City Guides™ powered by Gogobot™. The custom online guidebooks, created by fellow travelers and HomeAway vacation rental owners, are packed with recommendations on the best activities, restaurants and attractions for each destination. The HomeAway City Guides, along with the now live integrations of Uber and Instacart in the HomeAway app, provide concierge-like services for families and groups to experience the whole city.
"Even though traveler demand for urban vacation rentals is growing, a lot of people still don't realize it's even possible to rent an entire home for an extended stay in a city," says Brian Sharples, HomeAway co-founder and CEO. "We're launching new specialized Cities experience pages to help our millions of loyal vacation rental travelers discover the benefits of whole house rentals wherever they like to travel, not just in our traditional vacation destinations."
During the last 12 months, properties in markets where HomeAway is launching Cities pages had twice the demand than the average property worldwide (1). Similar to expansion efforts in Asia-Pacific and Latin America, cities are an opportunity for HomeAway to grow its core business and benefit millions of travelers by providing vacation rentals, which offer twice the space for half the cost of a hotel.
"What's interesting is a lot of these markets are cities that are either regulated or considering regulation – but that has not slowed the desire of families and groups to stay in vacation homes in metro areas," added Sharples. "It is certainly a compelling reason for governments to regulate vacation rentals fairly and embrace the millions of travelers visiting their cities."
Local communities profit from the valuable occupancy tax revenue and tourism dollars that vacation rental travelers produce. Based on an independent study done by TXP, Inc., the overall impact of the industry in the Los Angeles area totals $1.4 billion in economic activity (2).
Travelers wishing to book their next vacation in one of these hot vacation rental markets can visit http://www.homeaway.com/merch/collection and http://www.vrbo.com/merch/collection.
1) Based on internal HomeAway data from May 2014–May 2015
2) Local Economic Impact of Short Term Rentals in Los Angeles," TXP, 2014
About HomeAway
HomeAway, Inc. based in Austin, Texas, is the world's leading online marketplace for the vacation rental industry, with sites representing over one million paid listings of vacation rental homes in 190 countries. Through HomeAway, owners and property managers offer an extensive selection of vacation homes that provide travelers with memorable experiences and benefits, including more room to relax and added privacy, for less than the cost of traditional hotel accommodations. The company also makes it easy for vacation rental owners and property managers to advertise their properties and manage bookings online. The HomeAway portfolio includes the leading vacation rental websites HomeAway.com, VRBO.com and VacationRentals.com in the United States; HomeAway.co.uk and OwnersDirect.co.uk in the United Kingdom; HomeAway.de in Germany; Abritel.fr and Homelidays.com in France; HomeAway.es and Toprural.es in Spain; AlugueTemporada.com.br in Brazil; HomeAway.com.au and Stayz.com.au in Australia; and Bookabach.co.nz in New Zealand. Asia Pacific short-term rental site, travelmob.com, is also owned by HomeAway.
HomeAway also operates BedandBreakfast.com, the most comprehensive global site for finding bed-and-breakfast properties, providing travelers with another source for unique lodging alternatives to chain hotels.
About Gogobot
Gogobot's mission is to help people discover great places to stay, eat and play that are perfect for them. 19 Tribes (Family Travelers, Foodies, LGBT, etc.) help Gogobot members get personalized recommendations. More than 16 million people used Gogobot to plan and research places to go in the last year. Gogobot also has more than 800,000 reviews, four million photos and 60,000 city guides available on both the site and its apps.