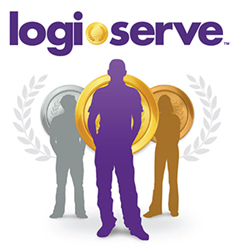 "Logi-Serve's availability to the large market of Oracle (Taleo) enterprise users is now available through our Oracle Gold certified integration and partnership" -Eric Krohner CEO, Logi-Serve
FARMINGTON HILLS, MI (PRWEB) May 21, 2015
Logi-Serve announced today that it plans to attend the Oracle HCSM Users Group (OHUG) Convention, June 8-11, 2015, in Las Vegas, NV. As an Oracle Gold Certified Partner, Logi-Serve has developed an integrated HCM solution, combining the reach of Oracle's Taleo Enterprise Recruit system with Logi-Serve's powerful talent assessment technology.
Recognized as a 2014 Cool Vendor by Gartner Research, the world's leading IT advisory firm, Logi-Serve is a rapidly growing software-based business execution and talent assessment firm. Logi-Serve's assessment tool offers a unique system for organizations to screen and develop individuals who excel in universally valued business competencies.
Logi-Serve's integration with Oracle provides Oracle Taleo Enterprise Cloud service customers the ability to select Logi-Serve as their employee-screening partner. "Logi-Serve's availability to the large market of Oracle (Taleo) enterprise users is now available through our Oracle Gold certified integration and partnership," stated Logi-Serve CEO, Eric Krohner. "Enterprise Taleo Recruit users can simply activate our state-of-the-art assessment solution as a fully integrated turn-key solution within their recruiting flow".
Visitors headed towards the Logi-Serve booth #514 will experience the latest innovations in employee assessment technology. With so many organizations looking to implement hiring and workforce development solutions, OHUG will provide Logi-Serve the opportunity to address every aspect of their unique employee assessment tool, including the tool's distinguishing features of: adaptive and realistic digital art, Triangulation Science and real-time ROI analytics.
About Logi-Serve
Logi-Serve is rapidly distinguishing itself as the market's leading assessment innovator for companies seeking to predict customer service ability, enhance customer experiences, increase sales and build a culture of sales and service excellence. Through patent pending science and tools that pose questions based on story-boarded scenarios, its use of advanced response gathering technology and a validated competency framework, Logi-Serve offers the market's most direct link to predicting and shaping business outcomes. To learn more visit: http://www.logi-serve.com