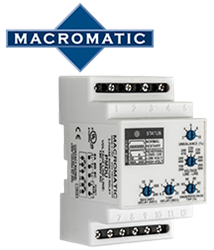 Menomonee Falls, WI (PRWEB) May 27, 2015
Macromatic Industrial Controls announced today its redesign of the PMD Series, a Three-Phase Monitor Relay for DIN-rail mounting. The PMD Series protects motors from premature failure due to phase loss, phase reversal, undervoltage, overvoltage and phase unbalance conditions along with rapid cycling.
PMD Series Three-Phase Monitor Relay
Macromatic redesigned the PMD Series Three-Phase Monitor Relay to offer a variety of options while keeping it easy to use:

Universal voltage range of 190-500V-greater range that covers more global applications (a separate 480-600V version is also available)
Full status LED retains fault indication and continues monitoring all voltages even with a phase loss
True RMS voltage measurement ensures accurate sensing across more applications
Bright LED provides clear indication and simplified troubleshooting
Manual Reset works with external switch allows unit to be easily reset from outside the enclosure
DPDT output contacts
Mounts on 35mm DIN-rail
Meets IEC/DIN enclosure design standards
Visit: http://www.macromatic.com/ProtectMyMotor
About Macromatic Industrial Controls
Located in Menomonee Falls, Wisconsin, Macromatic Industrial Controls engineers and manufactures industrial relays that control electrical processes and monitor power for damaging fault conditions. Macromatic provides solutions for almost any application in any industry. Macromatic's products are used in the HVACR, pump control, material handling, motor control, generator, and lift and elevator industries. As an independently-owned manufacturer of state-of-the-art control and monitoring products for over 40 years, Macromatic takes pride in its short lead-time, flexible product design, and exceptional technical support.
More information including knowledge based articles, technical support, competitor cross-reference, and company history is available at http://www.macromatic.com.