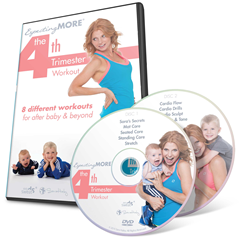 Los Angeles, CA (PRWEB) May 20, 2015
America's most sought-after pre and postnatal exercise specialist, Sara Haley, launches the first complete postnatal training program – Expecting MORE®: The 4th Trimester Workout - available exclusively at http://www.SaraHaley.com.
As a mother of two and fitness and dance veteran with more than 20 years of experience, Haley designed the eight-workout postnatal training program – which joins Haley's best-selling prenatal workout program Expecting MORE® and excuse-proof fitness series, Sweat UNIMITED – to safely and effectively guide women through their postnatal recovery, no matter what stage they are in.
"When I researched the postnatal fitness market, I couldn't find anything that helped moms ease back into their workouts, regain their core strength, build cardio and muscular endurance - while still being fun and motivating," said Haley. "The 4th Trimester Workout includes a calendar to help guide women through their postnatal fitness journey within the comfort and convenience of their home, so that they can pace themselves in a safe and smart way as they recover and heal post-baby."
Through her Expecting MORE® program, Haley has trained thousands of women during their pregnancies and now, with the addition of The 4th Trimester Workout, Haley, teaching the workouts at five months postpartum, will help postnatal women increase their cardio endurance, tone their body and most of all, heal and strengthen the section of the body that was most effected by pregnancy – the core.
Consisting of three cardio workouts, three core workouts, one strength and toning workout and one stretch routine, the fun and effective, easy-to-follow eight-workout program requires nothing more than a hand towel, mat and optional hand weights. It's perfect for all postnatal women, whether they've had a baby six weeks, six months or six years ago. Available for $39.95, the program also offers specific options for women who are healing from diastasis recti or recovering from a C-section.
For more information about Sara and Expecting MORE®: The 4th Trimester Workout, visit http://www.SaraHaley.com.
To connect with Sara, follow @SaraHaleyFit on Facebook, Twitter, Instagram and YouTube.
About Sara Haley
Named one of Shape Magazine's 50 Hottest Female Trainers, Sara is a certified (ACE, AFAA, & AFPA Pre & Postnatal Exercise Specialist) international fitness expert who has traveled the globe teaching master classes and educating other fitness instructors and trainers.
She has an impressive celebrity client resume and worked for seven years as a Reebok, Global Master Trainer. Sara helped develop programs for JUKARI, the branded workout series between Reebok and Cirque du Soleil, and created and starred in numerous Reebok & Gaiam DVD workout programs. Sara also has her own brand of fitness DVDs, The Daily Sweat®, which includes the award-winning prenatal workout program, Expecting MORE®, the acclaimed Sweat UNLIMITED and now Expecting MORE®: The 4th Trimester Workout for after baby & beyond. Armed with over twenty years of fitness and dance training, Sara currently teaches for the prestigious Equinox health clubs, is a brand ambassador for HINT Water and PRISMSPORT exercise apparel.
###