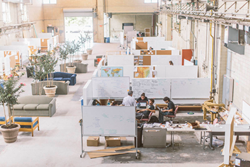 Students who accept the Mountaintop challenge are given free license to take intellectual risks.
Bethlehem, Pennsylvania (PRWEB) May 19, 2015
Today Lehigh University, a premier private residential research university, launched its 2015 Mountaintop Project, a summer-time initiative that embodies a bold, new vision for higher education. Now in its third year, the program provides an interdisciplinary experience that goes well beyond the traditional boundaries of college, as well as the space and resources for students to explore open-ended questions and develop their own projects. A plan to implement the Mountaintop Project year-round is currently underway.
The students will be working in two buildings on Lehigh's Mountaintop campus. Unavailable anywhere and scaled for a different era in American industry, the 50-foot-high buildings were formerly the state-of-the-art research laboratories of Bethlehem Steel.
There are 30 projects planned for 2015, including:

Adapting 3D ocean farming for vulnerable warm water coastlines
Designing a 3D printed exoskeletons to aid in rehabilitation for patients with muscle disorders of the hand
Creating extra-terrestrial greenhouses—a need identified by NASA—to provide a sustainable agricultural system in extreme conditions
Exploring the technical aspects of ocean wave energy, an emerging source of clean, renewable electricity
Designing an LCD globe display, intended to serve as a portal for connections among people or between people and places
An exploration of the intersection of hip-hop culture and entrepreneurship and the market space they occupy, with a particular focus on developing a software product that creates new channels for content creation and dissemination
An exploration of the development of geometric skills and quality of geometric learning experience in early childhood
An examination of the geography of bias, using data-driven techniques to answer novel questions about how biases vary geographically and the underlying reasons why
"The Mountaintop Project is one of the largest scale projects Lehigh has embarked upon—and the interest from students and faculty mentors continues to grow," said Alan J. Snyder, Vice President & Associate Provost, Research and Graduate Studies. "Students who accept the Mountaintop challenge are chosen for their projects' value and given free license to define complex questions, take intellectual risks, pursue knowledge, to struggle and to fail in their project and to take a new direction, to challenge conventional wisdom and, most important of all, to re-imagine, through their own work and their own ideas, the very nature of higher education and learning."
Phase I of the project began in 2013, ignited by a $20 million "ignition" gift from alumnus and Urban Outfitters' co-founder, Scott Belair '69. It included 5 projects and 25 students across disciplines.
More information: