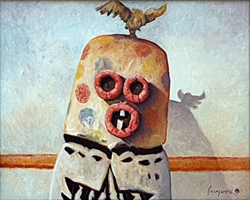 John's paintings offer an unique view of western icons. I love walking into the gallery to see his large painting, Cloud Katchina lll, presiding over the space... -Shanan Campbell Wells
Santa Fe, NM (PRWEB) May 21, 2015
Sorrel Sky Gallery is pleased to announce the arrival of John Farnsworth's New West paintings to the Santa Fe gallery.
Whether viewing his larger-than-life-size paintings of horses or his intimately sized Kachina paintings, it is clear that Farnsworth is a New West painter. While taking a relatively straightforward approach to the representation of his subjects, Farnsworth's allegiance to Pop Art is also apparent: he employs atypical cropping and a playful use of scale. This combination of factors brings together dynamic compositional elements to create an impactful influence on the viewer.
Farnsworth has long been fascinated with icons of the West. Growing up near the Navajo and Hopi Reservations and frequent trips to Taos during his youth, ignited his desire to become a painter. Today as a mature artist, he is a painter's painter, utilizing the uncommon combination of a contemporary eye and a traditional hand.
A self-taught artist, Farnsworth uses an iPhone to create daily sketches as foundations for his paintings. He also works from life, photographs, and videos. Using only the primary colors of red, yellow and blue as his palette's foundation, he captures all the nuance and subtlety of color and tone in even the most complex subjects.
"John's paintings offer an unique view of western icons. I love walking into the gallery to see his large painting, Cloud Katchina lll, presiding over the space," offered Sorrel Sky Gallery owner, Shanan Campbell Wells.
Farnsworth has painted professionally for over forty years and his works range from small pencil drawings, easel-size and large-scale canvases to the twenty-by-thirty foot mural, "Stage," owned by the City of Phoenix, Arizona.
Sorrel Sky Gallery's fresh approach to Western art presents a select collection of contemporary and traditional fine art and jewelry for the discerning collector. Sorrel Sky Gallery was founded in Durango, CO in 2002 and opened its Santa Fe, NM location in 2014. It represents over 60 painters, sculptors and jewelers including bronze artist Star Liana York, painter Billy Schenck, and Ben Nighthorse, among others.