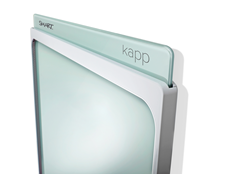 (PRWEB) May 20, 2015
"SMART kapp" was featured on NewsWatch as part of its monthly Tech Report, which features the latest and coolest technology products available to consumers. Andrew Tropeano, a technology expert and the host of NewsWatch, conducted the review and shared with viewers how this smart board is perfect for any brainstorming session, meeting, or a classroom setting.
Throughout the years, people discovered that chalkboards are not the most effective tool for any classroom or business. Obviously these age-old boards require chalk and erasers which end up creating a lot of hassle and mess for the user. Thankfully, people invented the dry-erase board to reduce some of these problems. But as useful as these boards are, they are improving with technology.
Destined to revolutionize the concept of dry-erase boards, the SMART kapp dry-erase board offer s a leap in functionality and delivers reliable collaboration. It's available in 42 and 84 inches and it uses the same dry-erase pen that people are used to but it will also show what's written on the board in real time on the SMART kapp app or in any web browser. So if a person is leading a meeting, they simply connect their mobile device to the digital capture board by scanning the QR code or tapping the NFC tag. This will initiate a Bluetooth connection. And the person is also able to save each page as a PDF or JPEG snapshot for future reference.
The lite app is free, but people can purchase the premium version which allows the user to increase the number of remote viewers from 5 to 250. The 42 inch board is $899 and the new 84 inch is $1199. However, it can be pre-ordered for $999.
To learn more, visit http://www.smartkapp.com today.
About NewsWatch
NewsWatch is a weekly 30-minute consumer oriented television show that airs on the History Channel, FYI Network, and ION Network. NewsWatch regularly features top technology products and services, mobile applications for iOS, Android, and Windows devices, unique and beautiful travel destinations around the world, health and medical tips, and entertainment interviews on the show. NewsWatch airs on the History Channel at 6:00 – 6:30 AM ET/PT and on the FYI Network from 7:00 – 7:30 AM ET.
NewsWatch is located in the greater Washington, DC area and has been on air for over 25 years. For more information or to watch the most recent episode, visit http://newswatchtv.com/tech-report.html.