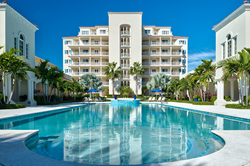 "It is definitely the nicest hotel unit we have ever stayed at." TripAdvisor Guest Comment
Providenciales, Turks and Caicos Islands, BWI (PRWEB) May 21, 2015
As Memorial Day, 2015 and the start of summer approaches, the staff at The Venetian on Grace Bay are looking back at another successful spring vacation season. They were excited to welcome back many returning guests while making new friends with travelers who have just discovered their resort.
The Venetian staff was touched by the many glowing reviews of resort guests this past winter and spring that have been posted on TripAdvisor, the world's leading authority on travel.
Below is a small sample of the positive TripAdvisor reviews about The Venetian on Grace Bay:
"As soon as we walked in my wife said, why are we only staying here three nights?" said one reviewer from Israel.
"The view from the porch of the gorgeous water and white sand is stunning," says another guest from Canada. "The sound of the water when on the porch was awesome. Sleep with the window open and hear the waves."
"When you arrive the beauty of the property takes your breath and continues to all week," says one TripAdvisor reviewer who visited the resort for seven nights this past spring. "Grace Bay Beach is stunningly beautiful and quiet. To the left and right you see a panorama of white sand and shades of blue, and you hear the wind blowing. It's amazing how its simplicity is totally entertaining."
The same review notes that "every condo is beachfront with a deep and wide screened in porch that lives like another room since it gives protected outdoor space."
"It is definitely the nicest hotel unit we have ever stayed at," says a Senior TripAdvisor contributor. "Our favorite part was the screened in porch with comfy furniture which was great for relaxing in mostly shaded area during the day. Great for watching sunsets."
The Venetian on Grace Bay was very happy to provide so many individuals and families with a warm sunny getaway from the harsh 2015 winter and spring.
Every 4th and 7th Nights Complimentary at The Venetian on Grace Bay
This summer, The Venetian is offering their guests who stay between May 1 and August 31st every fourth and seventh nights free on one, two, or three bedroom oceanfront suites. Additionally, The Venetian is offering 40% off rack rates during the months of September and October.
The spacious and immaculate units feature a gourmet kitchen, ensuite laundry room, and an oceanfront screened patio or balcony offering amazing views of Grace Bay beach. Bottles of chilled water, a Venetian touch, are available for guests on the beach, along with daily housekeeping.
Guests at The Venetian can enjoy their private stretch of beach yet are still within five minutes to anything they would like to do on the island.
For more information, call toll free 1-866-242-0969 or 1-877-277-4793.
About The Venetian on Grace Bay
Elegant and sophisticated, The Venetian on Grace Bay offers luxury, five-star service and privacy, serenity and a peaceful stay. Located on an intimate stretch of Grace Bay beach, The Venetian on Grace Bay offers ultimate in seclusion and relaxation at a Turks and Caicos luxury boutique hotel.
For more information on summer specials, contact Terria Misick, resort manager, at 649-941-3512, 1-866-242-0969 or 1-877-277-4793, or go to http://www.thevenetiangracebay.com.