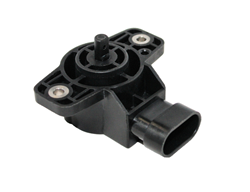 "We engineered the 9970 to meet the high performance levels demanded in harsh off-highway vehicle environments..."
Goleta, California (PRWEB) May 20, 2015
The new Model 9970 Hall effect position sensor from BEI Sensors ships quickly, within two weeks, and features a 50mm mounting hole spacing for drop-in compatibility with existing installations. A 1.5 Series AMP Superseal connector comes standard and the well-sealed, IP67 and IP69K package uses non-contacting technology, making this sensor exceptionally rugged and ideal for applications in harsh environments. With an extended operating life of up to 35 million cycles and a temperature rating from -40° to 125°C, the 9970 has been designed to perform in tough conditions typical of off highway vehicles. This heavy-duty design allows for precise motion control feedback in a variety of wash-down and dirty and dusty applications.
The 9970 Hall effect sensor comes in two standard output configurations of 0-5V ratiometric or 4-20mA for ease of specification and use across applications. Unlike comparable sensors, the 9970's ability to travel the full 360 degrees allows it to be used over a large range of rotary motion. This versatile position sensor also features overvoltage protection, preventing possible damage from installation errors. To limit radio interference, the 9970's design is highly resistant to electromagnetic interference, up to 200V/m, about the strength of a microwave.
Model 9970 is ideal for such harsh environments as steering and pedal position for off-highway construction and agricultural vehicles as well as throttle positioning in marine applications. It is also suitable for mining and material handling equipment and for valve position indication or control in processing systems.
BEI Sensors Senior Designer Dave D'Angelo explains this new product in a nutshell when he states, "We engineered the 9970 to meet the high performance levels demanded in harsh off-highway vehicle environments by providing a rugged sensor that has a standard 50mm hole spacing to ensure easy installation into existing systems and features electromagnetic resistance, high temperature operability and high cycle life. All that and a speedy delivery time to better serve our customers."
For more information on Model 9970 Hall effect position sensor, visit http://www.beisensors.com/9970.
________________________________________
About BEI Sensors
BEI Sensors specializes in speed and position sensors for extreme applications. With an extensive product offering including optical and magnetic encoders, Hall effect sensors, and potentiometers, BEI Sensors offers standard configurations to completely customized solutions. Through uncompromising quality, performance, and reliability, BEI Sensors upholds a standard of excellence in its products, customer service experience, and commitment to being a global leader in sensor technology.
BEI Sensors is a brand of Custom Sensors & Technologies (CST).
About Custom Sensors & Technologies (CST)
Custom Sensors & Technologies (CST) is a specialist in designing and manufacturing sensing, control and motion products.
Through its brands, BEI Kimco, BEI Sensors, BEI PSSC, Crouzet, Crydom, Kavlico, Newall and Systron Donner Inertial, CST offers customizable, reliable and efficient components for mission-critical systems in Aerospace & Defense, Transportation, Energy & Infrastructure, Medical, Food and Beverage and Building Equipment markets.
Focused on premium value offers and committed to excellence, CST, with 4.400 employees worldwide and sales of $590M US in 2014, is the dependable and adaptable partner for the most demanding customers.