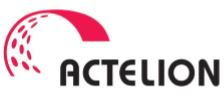 Rochester, MN (PRWEB) May 20, 2015
One in 5,000 people are diagnosed annually with hereditary hemorrhagic telangiectasia (HHT), which is as common as ALS and Cystic Fibrosis (CF), but virtually unknown to the public. Cure HHT is happy to announce a partnership with Actelion Pharmaceuticals as they support the inaugural Rochester, MN awareness walk.
The May 30 event aims to educate the public about HHT and raise funds for Cure HHT, whose mission it is to develop awareness, research, treatment and a cure for HHT.
"We are thankful to Actelion, for supporting our walk this year," said Cure HHT Executive Director Marianne Clancy. "Corporate sponsorships such as these make it possible for us to do events which create public awareness."
While it can take up to 30 years for a person to be diagnosed, some are more fortunate because their relationship with Cure HHT connected them to a HHT Center of Excellence or with healthcare professionals with HHT experience. It is these individuals across the country that are championing the cause and making a difference by organizing grassroots events like the Cure HHT Team Rochester.
About Cure HHT:
Cure HHT was founded in 1991 as HHT Foundation International - the epicenter of the national and global effort to advocate for HHT patients and families, raise awareness of HHT, catalyze and sponsor critical research and advance treatments. Though Cure HHT has created nearly 20 Centers of Excellence in the U.S. and Canada to research and treat this devastating disease, research remains woefully underfunded. The National Institutes of Health (NIH) currently spends only half-a-million dollars on research for HHT, but spends as much as $75 million a year each on other rare diseases that affect a similar number of people, such as ALS, Cystic Fibrosis and Huntington's.