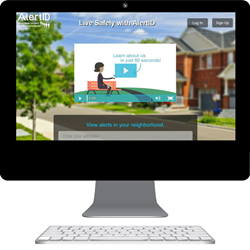 The website upgrades are part of our ongoing efforts to provide members with a better platform to view important public safety alerts in the neighborhoods and areas that matter most
Las Vegas, NV (PRWEB) May 20, 2015
AlertID, the neighborhood safety network, will re-launch its upgraded website on Wednesday, May 20th, 2015. This major upgrade to the AlertID platform is arriving after a year of suggestions from focus groups and active members across the nation. The website upgrades, which will feature both enhanced content and a more aesthetically pleasing format, will provide a better overall member experience and will enhance the company's position as a leader in public safety notification services.
"The website upgrades are part of our ongoing efforts to provide members with a better platform to view important public safety alerts in the neighborhoods and areas that matter most" said AlertID Co-CEO and CTO, Ken Wiles. The company's main objective when upgrading the website was to provide an enhanced member experience. Some of the changes that have been made include:

A simpler sign up and sign in process that gives members the option to link their social media sites to their AlertID accounts
An easier way for members to add addresses to their profiles, so that they can stay informed about the safety of the neighborhoods and areas that matter most to them
Alerts and neighborhood messages are now available in one easy to access place, next to area maps, which makes it easier to monitor areas important to members
AlertID urges people to stay informed with the public safety information it provides to better protect their families and neighborhoods. To become a member for free or to receive more information, visit http://www.AlertID.com.
About AlertID
AlertID, the neighborhood safety network, is free to use and helps protect families and neighborhoods. AlertID's mission is to help people live safely by providing a secure way to receive trusted public safety alerts and share information with family members and neighbors. AlertID uses technology to help citizens and federal, state and local authorities share information about crime, sex offenders, natural disasters, missing children and severe weather that can threaten public safety. AlertID is accessible to members online as well as by email and mobile app. For more information visit http://www.AlertID.com