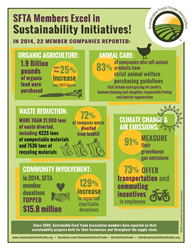 While these SFTA member companies are leading the way, any food company can and should be initiating strong sustainability programs.
Washington, DC (PRWEB) May 20, 2015
Sustainable Food Trade Association (SFTA) members are leading the organic food industry when it comes to innovative sustainability initiatives, according to the new SFTA 2015 Member Sustainability Progress Report. The report addresses initiatives undertaken in 11 areas from farm to retail in 2013 and 2014.
SFTA member companies go the extra mile, not only selling organic products, but addressing animal care, climate change, distribution/sourcing, education, energy, governance, labor, organic, packaging, water, and waste – the 11 areas in the organization's "Declaration of Sustainability." SFTA members measure, analyze, and report on their sustainability activities, and have been doing so since 2008.
"Our report demonstrates how companies with a commitment to organic are excelling in their overall sustainability journey, addressing their sustainability challenges in a number of bold and ground-breaking ways," stated Katherine DiMatteo, SFTA Executive Director. "While these organic companies are leading the way, any food company can and should be initiating strong sustainability programs."
The SFTA 2015 Member Sustainability Progress Report contains aggregated data from 22 reports submitted by SFTA members in 2014 about their prior fiscal year's activities, as well as short vignettes highlighting some of the most innovative initiatives. Findings include:
The purchase of organic products, and member commitment to providing organic food options continues to grow. 77% of SFTA reporting members' sales are from organic products, and over 1.9 billion pounds of organic products were purchased -- more than a 25% increase over 2014 figures!
Commitment to reduce climate change and air emissions is a top priority. 91% of reporting members measure greenhouse gas emissions, and 100% of distributors take measures to reduce fuel use through distribution route optimization. 73% of the companies
offer transportation and commuting incentives to employees.
SFTA members continue to increase their energy efficiency measures and use of renewable energy sources to decrease their impact on the environment. Almost half (45%) of the reporting members generate a portion of their own electricity on-site (solar, methane digesters, etc.), and a whopping 80% of companies' electricity use is derived from renewable resources. This last figure represents a 23% increase in the total renewable electricity use reported in 2014!
Waste reduction and landfill diversion efforts continue to gain momentum and grow in their levels of sophistication. Members reported completely diverting 72% of solid waste from the landfill, and 55% of members had a diversion rate of 70% or higher! These efforts added up to diverting more than 21,000 tons of waste from the landfill, including 4,225 tons of compostable materials and 7,536 tons of recycling materials.
When sourcing animal products, companies give animal care practices the highest consideration. 83% of reporting members that sell animal products have developed strict internal animal welfare production or purchasing guidelines that include open grazing for poultry, humane housing and slaughter, responsible fishing, and habitat regeneration.
Dedication to strengthening communities and quality of life is clearly demonstrated through a multi-layered approach. 100% of reporting retailers have programs dedicated to growing and selling local products. A growing trend is to add staff positions to increase local purchases. There also was a 129% increase in reported charitable donations; in 2014, SFTA reporting member donations topped $15.8 million!
2014 SFTA reporting members were: Amy's Kitchen; Annie's, Inc.; Ashland Food Co-op; Bridge's Organic Produce; Ciranda; Community Food Co-op; Earl's Organic Produce; GloryBee Foods; LifeSource Natural Foods; MOM's Organic Market; Nature's Path Foods; Organic Valley; Organically Grown Company; Outpost Natural Foods; Pacific Foods of Oregon; PCC Natural Markets; Port Townsend Co-op; So Delicious Dairy Free; Straus Family Creamery; Traditional Medicinals; United Natural Foods, Inc. (UNFI); and Viva Tierra.
About the Sustainable Food Trade Association
The Sustainable Food Trade Association (SFTA) mission is to build the capacity of the organic food trade to transition to sustainable business models. SFTA serves as a hub for businesses to learn, improve performance, communicate results, and share common metrics and best practices.
###