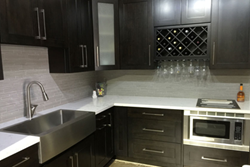 Santa Monica, CA (PRWEB) May 27, 2015
For homeowners looking to update their kitchen and produce a clean and contemporary look of black cabinets, can find affordable Kitchen Cabinets at CabinetDIY (http://www.cabinetdiy.com/color/Black-RTA-Kitchen-Cabinets).
When working with black cabinets, there are a few things to remember:
1. It is important that the surrounding features in the room, like countertops, floors, paint, and light fixtures blend and balance with the black cabinets. Keep in mind the lighting, and natural light the kitchen has.
2. Using too much black can darken the space, making it feel heavy. That is very important to remember when working in smaller spaces. Darker cabinets should be balanced with lighter paint, counter coverings, and accent colors.
3. In larger kitchens, that isn't always necessary. However, CabinetDIY explain that people should not be hesitant about going with full black cabinets, and might consider using black as a bigger accent color. By adding an island with black RTA cabinets in the center, while keeping the other cabinets a different color, homeowners can achieve the contemporary pop of black, without overwhelming the kitchen.
4. Remember that a bright color, mixed in with black, also helps to lighten the room.
Understanding that planning any kitchen remodel can be overwhelming, hiring a designer can help tremendously. However, if that isn't in the budget, the team at CabinetDIY will be more than happy to offer tips and advice.
For more information, or to get started on the next kitchen design project, visit http://www.cabinetdiy.com/color/kitchen-price-comparison
About CabinetDIY
CabinetDIY was established in 2004 to provide professional interior design services and products throughout North America and beyond. The company's team takes each customer's need, complaint or suggestion seriously, constantly improving their services and products to meet the demands for quality, uniqueness and diversity of the today's generation.