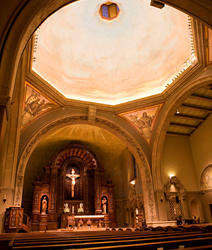 New York, NY (PRWEB) May 21, 2015
Eaton's Cooper Industries Lighting officials announce Bridget Williams Lighting Design as the winner of the Professional Category of the 38th Annual SOURCE Awards. ELP Cove lights were chosen to illuminate a key structural element in St. Charles, the winning project. The Cooper Industries site states that, "Projects are judged on the blending of aesthetics, creative achievement, and technical performance and the degree to which the lighting met the projects constraints and design concept goals."
Designer Bridget Williams, IALD, LC, MIES, won the 38th Annual SOURCE Awards for the renovated lighting design of the newly refurbished Saint Charles Borromeo Church in North Hollywood, California. The lighting and technology advancements to the space more than warranted this auspicious award. While entry into the competition requires the majority of the projects lighting be Cooper products, entrants are also free to incorporate other quality luminaires to achieve their design objectives. The generous latitude allowed Williams to utilize ELP's efficient CL Series Cove lights to illuminate the Dome at the front of the church. Speaking about her choice, Ms. Williams said, "I used ELP lighting fixtures in the dome at St Charles for the efficiency and superior quality of light. A soft even wash of illumination was required. With today's energy restrictions I was able to draw the most lumens out of the fixture making it the best choice."
Additionally, she was able to incorporate affordable 21st century technology with energy saving LED fixtures throughout the space. The results provide multiple levels of lighting throughout the layered structure to define and enhance the ornate architecture. William's design solutions provided the versatility to accommodate a bright and lively musical concert in the Sanctuary or a more typical serene quality of light for worship and special services. The updated lighting and controls resulted in energy usage of only 1.1 watts of power per square foot.
The massive Dome above the Altar had ELP's CL Series cove lights mounted around the base at 41' height to illuminate the expansive space. With a diameter of 42' and 18' height above the Sanctuary, the Dome could not be overlooked as a key element of the lighting redesign. In addition to high-lighting and enhancing the decorative ceiling of the Dome, the truly asymmetric performance of the new cove lights project large amounts of light forward into the space to provide the Altar and front portion of Sanctuary with abundant ambient lighting. These high performance cove lights can deliver over 1400 lumens of light per linear foot in fluorescent and over 2050 per foot for the most powerful LED option.
ELP offers 4 families of cove lights to accommodate a multitude of coves with over 13 styles and 30 LED and fluorescent lamping options to customize each design. Each family was designed for separate distinctive cove applications and requirements. Designed to optimize lighting in the space, ELP's cove lights are not meant to simply accent an architectural detail. The highly efficient cove lights all provide a strong asymmetric throw of light into the space to provide usable lighting to the room below. Intelligent use of Cove lighting can provide viable lighting for Healthcare, Corridors, Schools, Cultural Centers, Commercial, Institutional, Office and Residential applications.
ELP also fabricates a cove system with nine decorative coves in the CLC Series. These wall mounted coves are castings of GRG (Glass fiber Reinforced Gypsum) composite material. The Cove system combines a continuous cast cove with an efficient lighting component. Integration of the lighting component and casting is designed for fast, easy installation and provides tremendous cost savings verses building a decorative cove on site in high labor areas.
Over the last two years ELP has been transforming their high performance fluorescent cove lights to equally impressive LED options. Offered in 1', 2', 3', 4' and 8' length versions, these fixtures deliver a powerful lumen package for an impressive savings of wattage consumed. LED lamping options utilize Osram/Sylvania Prevaled® distributed array LED modules that are 80+ CRI (90+ with 2700K) and rated greater than 60,000 hours of life. They are available in 2700K, 3000K, 3500K and 4000K to suit any design.
Those interested in additional information on this release or other ELP products can contact our helpful, LC certified design staff at 1-626-579-0943 or visit our website at http://www.elplighting.com.