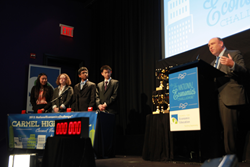 New York, NY (PRWEB) May 21, 2015
The Council for Economic Education is excited to announce the winners of the 15th Annual National Economics Challenge, a rigorous academic competition putting students' economic skills and knowledge to the ultimate test. Hosted by CNBC Senior Economics Reporter Steve Liesman for the second year in a row, the final quiz bowl round was televised live on CNBC's Power Lunch and featured on CNBC's Nightly Business Report.
Earlier this week, Mounds View High School from Arden Hills, Minnesota took home the top prize for the Adam Smith Division, (for advanced placement, international baccalaureate and honors students) and Homestead High School from Cupertino, California was named the winner of the David Ricardo Division (for students who have only taken a single-semester economics course) in the three-day competition, hosted by the Council for Economic Education.
Over 10,500 students from 41 states competed in CEE's National Economics Challenge, which applies the excitement of an athletic competition to academic excellence. The finals included written exams and a critical thinking round and culminated in a riveting "quiz-bowl" competition at The Crosby Hotel in SoHo.
The winners correctly answered questions covering a wide range of topics, from micro- and macro-economic priorities to international and current events. Adding to the excitement, students also had the chance to answer guest video questions provided by Ben Bernanke, former Chair of the Board of Governors of the Federal Reserve. Some of those brainbusters included questions like these:
With constant opportunity costs, in what direction does a production possibilities frontier slope AND what is the shape of the production possibilities frontier? (Answer: Downward Sloping and Linear)
What is the effect in a market of a price ceiling that is above the current market price? (Answer: Trick question—there is no effect.)
A reel of highlights from CNBC's broadcast can be viewed here.
Here's the complete list of winners:
Adam Smith Division (AP, IB and honors students)
First Place: Mounds View High School/Arden Hills, Minnesota
Abraham (Xingliang) Chen; Emily Ruan; Samuel Rush; Jacob Weightman
Coach: Martha Rush
Second Place: Carmel High School/Carmel, Indiana
Robert Greaser; Kevin Mi; Joe Philleo; Brendan Yap
Coach: Michelle Foutz
Third Place:Lexington High School/Lexington, Massachusetts
Raymond Gong; Ilise Martel; Soumya Ram; David Wu
Coach: William Cole
Fourth Place: The Harker School/San Jose, California
Aaron Huang; Ashwath Thirumalai; Steven Wang; Leo Yu
Coach: Samuel Lepler
David Ricardo Division (Single semester general economics students)
First Place: Homestead High School/Cupertino, California
Steven McDonald; Richard (Tianrui) Chen; Kazu Kogachi; Erik Yang
Coach: Christy Heaton
Second Place: Carmel High School/Carmel, Indiana
Samantha Bleykhman; Pranav Sriram; Allen Zhang; Ruth Zhong
Coach: Michelle Foutz
Third Place: Iolani High School/Honolulu, Hawaii
Alisa Boland; Kelsey Ann Kimura; Vincent Lee; Nathan Lee
Coach: Richie Kibota
Fourth Place: Charter School of Wilmington/Wilmington, Delaware
Eshan Agarwal; Shrayus Sortur; Rohith Venkataraman; Akash Singh
Coach: Michael Kiersznowski
About the Council for Economic Education
The Council for Economic Education is the leading organization in the United States that focuses on the economic and financial education of students from kindergarten through high school - and we have been doing so for over 65 years. We carry out our mission by educating the educators: providing the curriculum tools, the pedagogical support, and the community of peers that instruct, inspire, and guide. All resources and programs are developed by educators, and delivered by our national network of affiliates. Our goal is to reach and teach every child. Each year CEE's programs reach more than 55,000 K-12 teachers and over 5 million students across the United States.
For further information about the Council for Economic Education go to: http://www.councilforeconed.org.