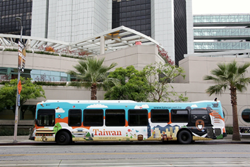 (PRWEB) May 20, 2015
To support the global green tourism trend, Taiwan Tourism Bureau in Los Angeles partnered up with Los Angeles Metro Bus System for a month-long promotion, presenting a custom Taiwan Tourism-themed bus wrap starting from May 19th. According to Mr. Trust Lin, Director of the Taiwan Tourism Bureau in Los Angeles, this creative campaign is yet another innovative international marketing strategy, following their recent collaboration with the Los Angeles International Airport. Taiwan Tour-ism's six major tourism themes are transformed into adorable animated graphics; Mr. Oh! Bear, the bureau's mascot, is incorporated into the design that captures Mr. Oh!Bear's witty and amiable character. Other elements illustrated include the Taipei 101, National Palace Museum, National Theater & Concert Hall, Taiwan Lantern Festival, Pineapple pastry, Xiao Long Bao, Black-faced Spoonbill, Formosan black bear, butterfly watching, diving, whale watching, cycling, hiking, and other diverse cultural and natural resources. The colorful bus wrap showcases Taiwan's tourism charms to the Southern California commuters and international tourists.
Director-General Mr. Steve Hsia of Taipei Economic and Cultural Office in Los Angeles expressed, "Climate change has caused substantial impact to the human living environment, which is also today's global concern. Taiwan is actively promoting its participation in the United Nation Framework Convention on Climate Change, UNFCCC. We hope to show Taiwan's contribution to coping with the global weather change through environment monitoring, air quality control, water pollution improvement, recycling technology, nature conservation and sustainable development. This is the first time for Taiwan to launch a bus advertising campaign in the Los Angeles area to promote green tourism, which is critical in raising awareness of Taiwan in the general public at the same time fulfilling Taiwan's duty as an international society." Taiwan Tourism's mascot Mr. Oh! Bear-themed Metro bus covers the West-side and South Bay areas of Los Angeles, including LA's most popular tourist spots like downtown Los Angeles, Hollywood, Beverly Hills, Santa Monica, and the Los Angeles International Airport. The green, low carbon Los Angeles Metro buses are now transformed into promotional vehicles for Taiwan Tourism, introducing Taiwan to the American public in the most direct advertising format as mobile billboards.
Taiwan Tourism Bureau has been progressively promoting Taiwan Tourist Shuttle Service, and encourages tourists to travel in Taiwan utilizing public transportation. The bureau divides Taiwan into 5 major servicing areas including Northern Taiwan, Central Taiwan, Southern Taiwan, Eastern Taiwan and off-shore Islands with 36 planned shuttle routes. It provides public bus services with assigned pick-up locations and schedules as the most economical, convenient, and green transportation option for those who like to travel apart from set tours and are interested in in-depth adventures. For detailed information, please visit its official website at http://taiwan.net.tw/.
As an effort to encourage travelers to take public transportation, Taiwan Tourism Bureau in Los Angeles is hosting an "I Love Taiwan" online raffle drawing on its Facebook fan page starting May 19 - 31st. To enter, please visit http://www.facebook.com/tourtaiwan, click "like" under the image of the "Taiwan Tourism Mr. Oh!Bear-themed Mini Metro Bus" and leave a comment about your most desired place to visit in Taiwan for a chance to win the miniature model. The winner will be announced at 11am on June 1, 2015 Pacific Standard Time.