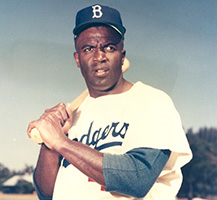 'm really honored to be part of this induction of great players all over the world,I humbly received in name of my beatiful family,thanks god for allow me to play the game that I love ,thanks to Baseball World Hall Of Fame,and the fans. Dennis
Toronto Canada (PRWEB) May 20, 2015
The Class of 2015's remarkable ball players are joining the original 12 Honored Members, Babe Ruth, Hank Aaron, Sadaharu Oh, Roberto Clemente, Ferguson Jenkins, Juan Marichal, Shigeo Nagashima, Bobby Avila, Minnie Minoso, Viktor Starffin, Albert Spalding and Harry Wright.
The Class of 2015:
1. Jackie Robinson. 10 year MLB,301BA,137 hmrs,734 rbi,197 sb. The man who brought major league baseball into the modern area by breaking the baseball color barrier with the Brooklyn Dodgers.
2. Ted Williams. 19 year MLB,344 BA,521 hmrs,1839 rbi,6 batting titles,2 MVP, 4 hr
titles, last player to bat 400, 406 in 1941. Considered the by many the greatest hitter in baseball. US Navy fighter pilot in 2 world wars, WW2 and Korea. A Boston Red Sox Legend.
3. Mickey Mantle. 18 years MLB,291BA,536 hmrs, 2781 rbi, 4 hr titles, 3 MVP, 7 WS, record 18 WS home runs, Triple crown 1956. A great Yankee. Most powerful switch hitter in baseball histor with a 565 foot home run. "The Mick", One of the 4 greatest Yankees of all time.
4. Joe DiMaggio. 13 years MLB, 325BA, 361 hmrs, 1537 rbi, 3 MVP, 9 WS. A Yankee Legend. A great ball player, served in WW2. Left a 56 game hitting streak for the rest of Major League players to chase.
5. Cy Young. 22 years MLB. 511 wins, 2:63 era, 2803 so, 3 nh, 1 perfect game. 749 complete games A master on the mound, and a total win record that will never be broken.
6. Lou Gehrig. 17 years MLB,340BA, 493 hmrs, 1995 rbi, 6 WS, 2 MVP, 3 hr titles,triple crown 1934. "Today, I consider myself, the luckiest man on the face of the earth". A man who left us too soon, a great ball player, who became "the Pride of the Yankees".
7. Rod Carew. Gatun, Canal Zone, Panama. 18 years MLB,328BA, 92 hmrs, 3053 hits, 1015 rbi, 7 batting titles, 4 consecutive.
8. Nolan Ryan. 27 years MLB. 324 wins, 3:19 era, 5,714 SO, 7 no hitters, more strike outs
than innings pitched. Regularly threw fastball 100 mph, devastating curve ball. Phenomenal pitching career, known as the "Ryan Express".
9. Omar Linares. "El Nino" the kid. San Juan, Martinez, Cuba. 20 year career,368BA, 404 hmrs, 1547 rbi, 264 SB. One of the best ever in Cuba.
10. Dennis Martinez. Granada, Nicaragua. 15 years MLB. 245 wins, 3:70 era, 2149 SO. Perfect game with the Montreal Expos, 1991. Known as "El Presidente"
11. Martin Dihigo. Cidra, Cuba. 28 year career,307BA, no hr record, 4 MVP, Pitching record 107 wins. Negro Leagues, Latin American League. Member, Cuban and Cooperstown Halls of
Fame.
12. Pete Rose. "Charlie Hustle". 24 years MLB,307BA, 4,255 hits, 3 batting titles, MVP, 3 WS.
Most hits in major league history, played every position except pitcher or catcher. Manager Cincinnati Reds 1984 - 1989. Banned from baseball by MLB in 1989 for gambling on baseball games.
World Baseball Hall of Fame induction event planned for later this year.
Contacts;
Bruce Prentice, President, (905)397-6817
Alexander J Cartwright IV, Board of Governors, (253)640-6039
Copywrite 2015 World Baseball Hall of Fame