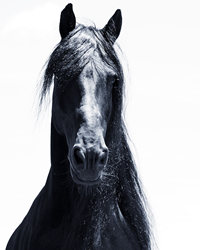 New York, NY (PRWEB) May 20, 2015
James Houston Design, the company behind world-renowned, New York-based beauty and fashion photographer James Houston, announced today an agreement with online interior design and home décor platform nousDECOR that enables members of the nousDECOR community to access limited edition prints available for purchase via his online gallery at http://www.nousdecor.com/product/james-houston.
Launched in November 2014, the James Houston Design online photographic gallery is a selection of 250 of Houston's finest photographs available for the first time as limited edition prints, with a portion of proceeds going to international charitable causes close to Houston's heart such as Move for AIDS, Global Green USA and Breast Cancer. The gallery includes Houston's never before seen Nature and Friesian horse series. An authenticity card containing the title of the work, James Houston's signature and the edition number accompanies each print.
Many of the images which have been exhibited internationally were created for various passion projects Houston worked on, raising awareness and funds for a range of causes from HIV/AIDS to Breast Cancer and the environment. Aligning with Houston's mission to have his creative work benefit the aforementioned causes, a percentage of profits from the JHD image sales will benefit those organizations, thus continuing the mission of each project. Over the last fifteen years Houston has earned incredible international publicity, attention and respect for his community projects. These projects have raised close to two million dollars for various non-profit organizations and brought valuable awareness to important causes.
Just last month (April 2015), Houston's platform expanded beyond photographs to showcase and sell a range of beautiful image-inspired home décor and design-focused lifestyle products.
About James Houston
Award-winning Houston has traveled the globe in a career that spans over twenty-five years shooting for the world's leading brands and publications. Clients such as Vogue, L'Oreal Paris, Donna Karan, Hugo Boss, Givenchy and GAP appreciate his eye for beauty and celebrate his talent. Houston also works regularly with leading celebrities such as Hugh Jackman, Emma Watson, Jessica Alba, Claire Danes, Cate Blanchett and Jennifer Lopez. To date, five award winning books have been published on his work with exhibitions being held in Europe, Asia, America and Australia.
About nousDECOR
nousDECOR® (http://www.nousdecor.com) is an online interior design platform that combines crowd-sourced ideas and inspiration with search tools and automated recommendations to provide users with everything they need to decorate a space. nousDECOR provides much more than beautiful images and links to products, but also all the resources you need to translate dream designs into reality, from intelligent search tools and a "Same Look Different Price" recommendation engine, to a moodboard builder and access to thousands of moodboards curated by design professionals and enthusiasts. The San Francisco Bay Area, California-based company closed a $2.1 million round of seed funding in October 2014.
# # #