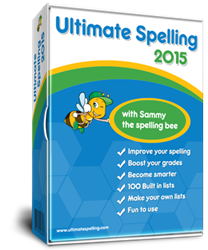 ...it is important to also know that through consistent practice anyone can master the English spelling, no matter how hard and unpredictable it might seem...
New York City, NY (PRWEB) May 22, 2015
eReflect, designer of learn to spell software Ultimate Spelling™, shares a four-minute video on English spelling and its renowned weirdness. The short video was produced by Mental Floss, with words by Arika Okrent and pictures by Sean O'Neill. In this whiteboard video, the history of English spelling is told in a fun and educational way.
The narration goes back to 600 AD when Christian missionaries first arrived in England, bringing the Roman alphabet with them. These missionaries soon discovered that the Germanic language spoken in England included sounds they did not have or could not pronounce. While they settled some common spellings and pronunciations of words, several exceptions established centuries ago continue to perplex native and ESL learners alike today. One example is the word "thought." Originally, the "gh" was pronounced, but now is a silent letter cluster. This is not the only wourd where the "gh" combination changed over the years. In some cases they were pronounced "f" as in the case of "cough". At the time when these major changes were taking place, the introduction of the printing press helped spread a somewhat more standard written English language. What many people don't know according to the Mental Floss video is that printers decided on certain spellings on their own, while the language was still evolving, so that English was changing simply by the way people chose to use it.
The "Great Vowel Shift" and similar developments in spelling were not the only changes taking place. The invasion of the French armies meant that the educated higher classes needed to speak that language. This continued for a few centuries and greatly influenced English spelling and vocabulary. During the Renaissance, scholars and other leaders believed that Greek and Latin words should be more evident in the English language. As a result, the spelling of words such as "dette" and "receit" had to show off their Latin and Greek roots, becoming the now-familiar "debt" and "receipt."
Spelling tutor software programs like Ultimate Spelling™ help people make sense of the English language, which has one of the most intricate spelling systems in the world. While a bit of history can help people understand why there are so many discrepancies and a seeming chaos pervading English orthography, it is important to also know that through consistent practice anyone can master the English spelling, no matter how hard and unpredictable it might seem, eReflect says. "English spelling might seem frightening at times, but it's definitely something thata spelling program can help people master," eReflect's spokesperson says.
***********
For more information about how Ultimate Spelling software can improve spelling performance for you and your family, please visit the official website at http://www.ultimatespelling.com.
About Ultimate Spelling™
Ultimate Spelling provides a modern and easy to use spelling software that has been designed with one goal in mind – making children want to learn.
It is a fast and easy way to master even the most complicated spelling, without the need to write long lists or complete boring tests.
In fact, Ultimate Spelling provides more than just spelling help. It is a complete educational resource that boosts all level of a child's literacy.
Containing a personal computer tutor, Ultimate Spelling is the most realistic step-by-step guide to flawless spelling ability.