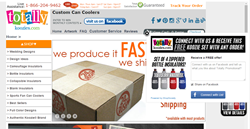 ShopSocially's Social Connect app is generating numerous social endorsements for us on Facebook and converting happy customers into brand ambassadors. - Erin Siefring, Social Media Coordinator at TotallyKoozies.com
Mountain View, CA (PRWEB) May 20, 2015
TotallyKoozies.com a premier retailer for imprinted promotional products in the United States, is using ShopSocially's online marketing platform to make the buying experience on its site more social. By using the Social Connect app from ShopSocially, TotallyKoozies.com is encouraging website users to connect with their brand on Facebook. As users connect, they also create social posts endorsing TotallyKoozies.com brand on Facebook. These social referrals drive high quality referral traffic to TotallyKoozies.com website. TotallyKoozies.com is recording a high sales conversion rate of 51.7% for users interacting with Social Connect app.
"We understand that when customers come to our website, they are looking for something really customized and personal. TotallyKoozies.com team guides customers through every step of the order process to ensure that customers get what they are looking for." commented, Erin Siefring, Social Media Coordinator at TotallyKoozies.com. "ShopSocially is helping us connect with our customers through Facebook and serve them better. Social Connect app is generating numerous social endorsements for us on Facebook and converting happy customers into brand ambassadors."
Visitors on an e-commerce website are well qualified prospects for marketers because they have a genuine interest in the brand. By using incentivized social media influence, ShopSocially's Social Connect app is converting these prospects into customers. TotallyKoozies.com embedded Social Connect on its site to encourage website users to connect with their brand on Facebook. Users were prompted to share on Facebook their reasons to choose TotallyKoozies.com brand. This resulted in creation of numerous social posts by customers endorsing the TotallyKoozies.com brand on Facebook. This drove high quality friend referral traffic. For TotallyKoozies.com, the sales conversion rate for users interacting with Social Connect app was as high as 51.7%.
As users connect through Facebook, they automatically share the email address used to log in to Facebook. This is a pre-verified email address, making Social Connect a next-generation email acquisition tool with built-in viral promotions. Users also share their social profile data like age, gender, birthday, geo-location and interests with TotallyKoozies.com. These provide deep insights into the social persona of TotallyKoozies.com customers.
TotallyKoozies.com also used ShopSocially's Get-an-Email app to rapidly add quality subscribers to their email marketing program. Website users were incentivized to subscribe for email updates through this app. An incentive was provided immediately and in-line, ensuring that users never left the current purchase session on the website. TotallyKoozies.com saw a sales conversion rate of 13.31% for email subscribers acquired using this app.
Website visitors tend to convert better when brands try to connect with them personally through channels like social media and email. When users share their email address or make a social post endorsing a brand, they invest their social capital and make mental commitment towards the brand. Because of this, their propensity to become a paying customer increases manifold. ShopSocially's online marketing platform leverages this insight into customers' purchase psychology and employs effective social strategies through its app to drive sales conversions and increase revenue.
"Marketing today is democratized and customers' purchase decisions are greatly influenced by their friends. Therefore, generating brand recommendations from customers is the ultimate objective for marketers." said Samir Palnitkar, President at ShopSocially. "The Social Connect app is enabling TotallyKoozies.com to connect better with their customers and enable word-of-mouth promotions for their brand. We are happy to see this social strategy delivering great results for TotallyKoozies.com".
About TotallyKoozies.com
TotallyKoozies.com, is America's leading source for imprinted promotional products and a branch of TotallyPromotional.com. Since 1993, TotallyKoozies.com has processed successfully thousands of orders every year for companies, organization, universities and governments. Efficient and personal customer service is one of key contributor to the success of TotallyKoozies.com. An in-house team of creative art professionals and 10,000sq.ft. graphic design and printing facility of TotallyKoozies.com ensures that all orders are delivered quickly and professionally.
About ShopSocially
ShopSocially is a premium, social, referral and loyalty platform for marketers. Leading brands like Crabtree & Evelyn, Zazzle, Zipcar, ULTA, Beretta, Dressbarn etc. are using the ShopSocially platform to enable referral marketing, visual commerce, customer loyalty, social login, social gamification and other such programs on their site.
ShopSocially has been consistently driving word-of-mouth promotions via social for 1000s of brands and delivering positive social ROI for their social media efforts. ShopSocially has won several awards and has also been featured by Facebook in a Social Commerce case study. Launched in Oct 2010, ShopSocially is a privately held company in Mountain View, CA. For contact information, please visit http://shopsocially.com/platform/request-a-demo.html.