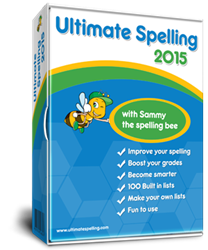 People can recall the correct spelling of words by learning to draw on this mental spelling images bank in their head.
New York City, NY (PRWEB) May 26, 2015
eReflect, developer of Ultimate Spelling™, a cloud based web app that helps English language learners improve their spelling knowledge, has published a new blog post on how people can learn to spell correctly with just a few hacks and spelling tips.
In the post "7 Ways to Improve Your Spelling," eReflect explains that even though spelling might seem hard and even impossible to master, with the right techniques and strategies, anyone can learn to spell quickly.
One way people can improve their spelling knowledge is with a dictionary. Whether a person chooses a print or online dictionary doesn't matter — the goal is to have a point of reference to turn to when they have forgotten a word's spelling.
Many people are not aware of the importance of "mental orthographic images" for efficient spelling, the eReflect editor notes. These mental orthographic images constitute a pool of word images imprinted in a person's brain after repeated exposure to those words.
People can recall the correct spelling of words by learning to draw on this mental spelling images bank in their head. Of course, repeated exposure in the form of reading and writing is also essential to make sure that data bank of mental orthographic images is accurate and reliable.
People often use spelling rules from both American and British spelling, but as the eReflect editor notes, this is not a good idea. The result is not correct in either language, and gives the impression that the author is a poor writer. It is crucial that a writer starts out by knowing what audience they are writing for, and stick to the spelling rules of that language.
Spelling software creator eReflect believes that with consistent practice and a robust set of tools like a spelling software program, a good dictionary, and an eagerness to learn, anyone can improve their spelling efficiency. Teaching spelling is not an activity reserved for young students, the editor concludes. Anyone can engage in spelling activities and learn how to improve their writing skills through accurate spelling, at any time.
***********
For more information about how Ultimate Spelling software can improve spelling performance for you and your family, please visit the official website at http://www.ultimatespelling.com.
About Ultimate Spelling™
Ultimate Spelling provides a modern and easy to use spelling software that has been designed with one goal in mind – making children want to learn.
It is a fast and easy way to master even the most complicated spelling, without the need to write long lists or complete boring tests.
In fact, Ultimate Spelling provides more than just spelling help. It is a complete educational resource that boosts all level of a child's literacy.
Containing a personal computer tutor, Ultimate Spelling is the most realistic step-by-step guide to flawless spelling ability.