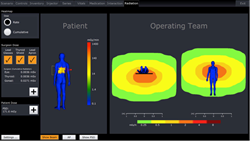 With the rapid adoption of endovascular techniques, the need for training on the potential hazards of radiation has become apparent and extremely important
(PRWEB) May 21, 2015
Patients, physicians and operating teams are exposed to high doses of radiation during clinical procedures. Today, the means to inform about risk and educate on best practice is extremely limited. Mentice is changing this by releasing a simulation-based radiation safety functionality for physicians, nurses, and technicians who use interventional fluoroscopy equipment.
Unintended or unnecessary exposure to extreme doses to patients can cause severe and life-changing injuries. Understanding the environment and learning proper radiation reduction techniques is therefore critical for all interventional procedures. The training methods commonly used today are ineffective and unrealistic.
To help change this, Mentice has developed a Radiation Safety solution which adds hands-on training to Mentice's extensive range of endovascular training modules. This Radiation Safety plug-in fully integrates with the simulated procedures and allows users to see the effects on radiation levels as they operate the fluoroscope, in a completely safe and radiation-free environment.
"With the rapid adoption of endovascular techniques, the need for training on the potential hazards of radiation has become apparent and extremely important," says Göran Malmberg, Mentice CEO.
"Mentice now provides a unique and first of its kind solution that integrates radiation safety aspects into procedural training. We believe this will create an effective new way for health professionals to reduce their fluoroscopy dose levels, something that will greatly benefit both patients and staff," Göran Malmberg continues.
More information about the release can be found at http://www.mentice.com/our-procedures/radiation-safety.