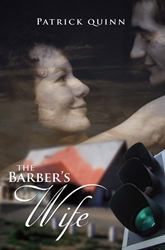 Mikhailovich did not steal, his friend did, but the fear of getting his involvement discovered pushes him to commit another crime worse than the first—murder.
(PRWEB) May 20, 2015
Mikhailovich is guilty of nothing more than sharing the information about the wealth hidden in an old mansion. But when his friend Ivan stole the loot, Mikhailovich knows he is in deep trouble. There is not a lot he can do, but Mikhailovich is willing to kill his childhood friend to save himself and the life he has established with his wife, Margarita.
Set in 1980s America, The Barber's Wife depicts not only the crime, but also the life of immigrants in the small town, as well as how Mikhailovich and his wife become renowned citizens for their contributions to the town's progress.
Written by an immigrant himself, the novel is a reflection of momentous events in the life of its author, Padraig O'Cuinn. He states, "It is a true account (though not the murder) of survival from the tangled web of the crimes done by a sociopath against me and the weak economic ventures of restoring an old house and living through the flooding of the town in the eighties. Life in San Diego brings one close to the woes and wounds of illegal Latinos."
Furthermore, "Being an Irish immigrant, I have sympathies for understanding of much of their tribulations. This is shown in many interesting ways through religion and politics from the point of view of the worker. The barber shop is a nostalgic insight."
The Barber's Wife is now available for purchase in print versions.
Title: The Barber's Wife
Author: Padraig O'Cuinn
Genre: Fiction/General
ISBN: 978-1-4958-0500-4 (Paperback)
978-1-4958-0501-1 (Hardcover)
eISBN: 978-1-4958-0502-8
Pages: 164
Price:
Publication Date: December, 2014
Publisher: Infinity Publishing